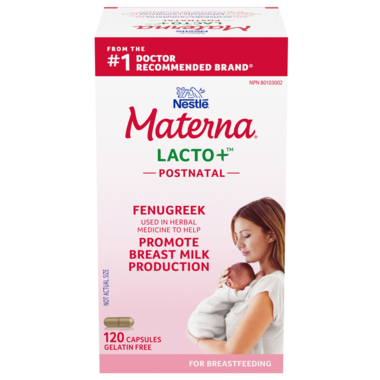 Description
Materna LACTO+ is a postnatal breastfeeding support containing Organic Fenugreek to help increase breast milk production.
Features:
Contains organic fenugreek which is traditionally used in herbal medicine to help promote breast milk production in breastfeeding moms
Non-GMO, vegan friendly, halal, and gelatin free
Recommended Dosage:
2 capsules twice daily (total 4 capsules per day) from the start of breastfeeding.
Medicinal Ingredients:
Trigonella foenum-graecum
Non-Medicinal Ingredients:
Cellulose, Hypromellose
Caution:
Do not use if safety seal is broken. Keep out of reach of children. Do not exceed the recommended daily dose. Consult a healthcare practitioner if symptoms persist or worsen, if you are pregnant or have diabetes. Not for use during pregnancy. In rare occasions, individuals allergic to peanuts, soy, or other legumes may experience allergic symptoms. Store at room temperature in a cool, dry place. Avoid exposure to heat sources and direct sunlight.
Ingredients
Medicinal Ingredients: Trigonella foenum-graecum Non-Medicinal Ingredients: Cellulose, Hypromellose
Shipping & Returns