Hevea Baby Glass Bottle with Natural Rubber Cover & White Cap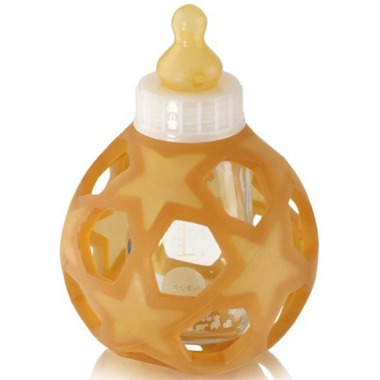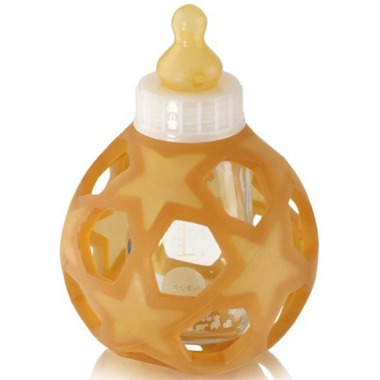 Hevea Baby Glass Bottle with Natural Rubber Cover & White Cap
The Hevea Baby Bottle is made from the highest quality, thermal shock resistant borosilicate glass. To help the little ones hold on to it, they have added a natural rubber cover, which not only helps the baby to grab the bottle easily but also helps the bottle from becoming slick. The Hevea natural rubber cover also works as a breakage preventer, as it bounces off if dropped to the floor.
And as with many other Hevea products the functionality is dual: The cover can be used as a toy when not used on the bottle. It comes with a natural rubber nipple, screw thread, cap, dust cover that has a measurement indicator on the side and HEVEA natural rubber cover. The natural rubber nipple is size 0+ (milk & water). The bottle is only available as a set. The size is 150ml.
Features:
100% borosilicate glass bottle + 100% natural nipple are BPA-free, phthalate-free & PVC free
Does not leach toxic chemicals
Highly hygienic, due to the smooth and non-porous surface
Heat resistant, dishwasher safe (place cap parts on top rack and can be boiled or steam sterilized ( please remove the natural rubber cover when cleaning)
Taste and odour free, no substances can get into the food/ liquid
The unique HEVEA natural rubber makes it easy to grasp for small hands and works as a breakage preventer if dropped
The natural rubber nipple is softer than silicone and very resistant to teething/bites
The screw caps comes in 3 colours and is all in produced from non toxic and eco friendly pp
A pretty FSC packaging makes this the ideal baby shower gift
Kind reminder: While very durable, the glass bottle is still glass and is not unbreakable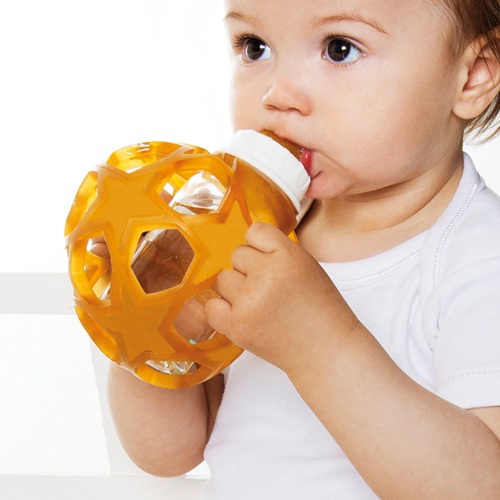 Jennie:
a few months ago
Great idea, but I think the design needs work.
It's quite difficult to get the bottle in the hole of the ball, and the twist cap that holds the nipple to the bottle seems like really cheap plastic. My daughter seems to like the shape of the nipple though.
It's very expensive for what it is. I wanted to find a bottle she would hold onto and feed herself. This definitely is great for her to hold and seems to like to play with it too.
However, there is no cap and the milk leaks from the nipple if she moves it around. Again, design needs some work. But I can see it being great if they fixed a few things. Only goes up to 150ml as well, would be nice if they had another size too.
Page
1