Laird Superfood Original Creamer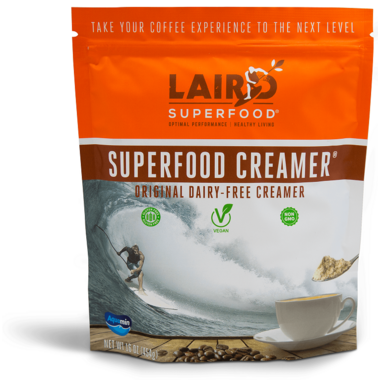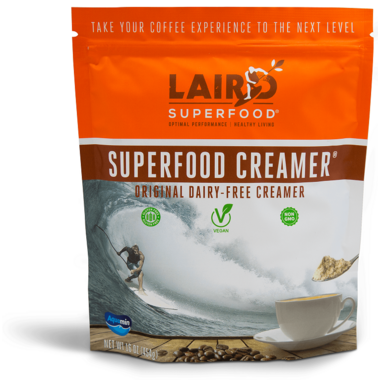 Laird Superfood Original Creamer
The Laird Superfood Original Creamer is a dairy-free, vegan and gluten-free coffee and beverage enhancer. It combines a unique blend of coconut milk powder and Aquamin™ (a sea algae that contains minerals such as calcium) with energy sustaining coconut and oils.

Key Ingredients:

Coconut Milk Powder: Made from freshly squeezed, filtered coconut milk to deliver the exotic flavor and aroma characteristic of fresh coconuts.

Dried Organic Coconut Nectar: Made from the fresh sap of the coconut tree that is gently heated to produce a light nutty flavor that isn't overly sweet along with a hint of coconut aroma. The result is a 100% organic coconut sugar – no fillers here – that has a lower glycemic index than typical sugar.

Aquamin: Derived from 100% red marine algae to deliver bio-available calcium, also contains 72 other bio-available minerals.
Organic Extra Virgin Coconut Oil: Called the "King of Oils" Coconut Oil is extracted from the kernel or meat of mature coconuts. It has a unique combination of fats including medium chain triglycerides (MCT's).

Directions: Add 2 teaspoons to your hot coffee, smoothie, tea, or cocoa. Due to no additives this product may clump. Simply massage bag to break up contents before use.
Ingredients: Coconut Milk Powder, Organic Coconut Sugar, Aquamin™ (Calcium from Marine Algae), Organic Extra Virgin Coconut Oil, Organic Red Palm Oil

Allergies: Contains: Tree Nuts (Coconut)