Libre Travel Tea Glass Infuser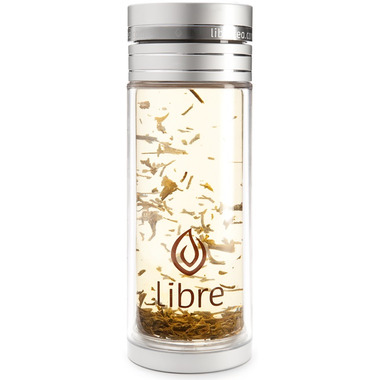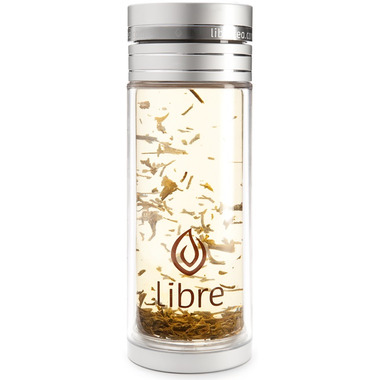 Libre Travel Tea Glass Infuser
- We're sorry, this product is no longer available!
- Shop for other products in: Tea Infusers

Finally! Your favorite loose-leaf tea is ready to travel for a tea moment anytime, anywhere and with a big tea lover's size.

With the Libre Travel Tea Glass Infuser, you can get on the road without taking time out to wait for your tea to steep and still enjoy delicious, sediment-free sips. This unique design combines a travel cup base, a removable stainless steel filter and sealed cap for no spills. Fill it up with hot water and add your tea leaves into the mug or place them on top of the filter, and your tea will steep while you're on the go. The filter serves as a barrier to the leaves to ensure that every sip is pure perfection the tea leaves are in the glass or in the filter/lid sections.

Large enough to hold up to 14 ounces of tea, the Libre Travel Tea Glass Infuser is 8.5 inches tall and measures 3 inches in diameter. The interior of the travel infuser is made out of glass that doesn't affect the natural flavors of loose leaf teas – one wash and you are ready to go for another beverage – tea or… your choice – this Libre tea glass keeps it hot or cold with the double wall construction.

The clear exterior layer ensures durability and helps to insulate the cup to keep your tea piping hot or your fruit'n herb water, sun teas or iced teas cold!

The Libre Large size is an easy winner in summer – holding lots of ice and keeping your favourite drink cold for refreshment anytime, anywhere. Stylish, practical and what a multi-tasker – try it out with protein powders for a quick energy pick me up anytime, anywhere.