Pura Sport Insulated Water Bottle Aqua
100% Plastic Free
650ml (22oz)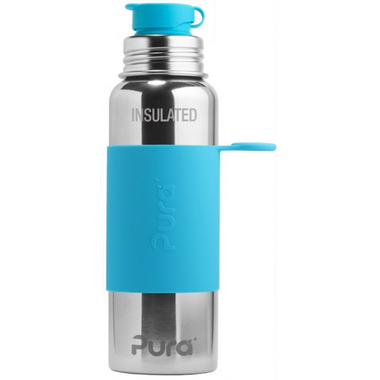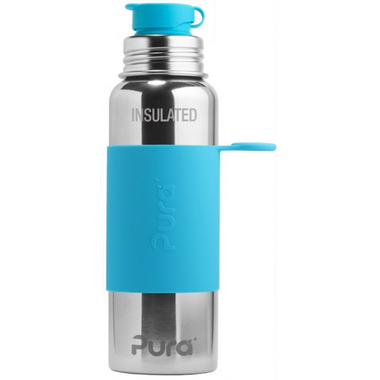 Pura Sport Insulated Water Bottle Aqua
100% Plastic Free
650ml (22oz)
The first 100% plastic-free vacuum insulated sport bottle on the market and only NonToxic Certified bottle on the planet. Pura's 100% medical grade silicone Big Mouth™ sport top allows a free flow of liquids while eliminating the dreaded ice shift that often results in a soaked shirt or an embarrassing wet spot in your lap!
As with all bottles in the Pura offering, this 650ml (22oz) insulated bottle is 100% plastic-free and can be used with any of our silicone lids including our nipples, spouts, straws, and flat lids. With Pura you can rest assured that you are always using the safest and most eco-progressive bottle on the market.

Features:
No Plastic Components...No Safety Concerns!
One Life… One Bottle™ - Easily converts from a sport bottle to flat cap or juvenile bottle by simply swapping the silicone top
Vacuum insulated – Keeps liquids cold for up to 24 hours with ice
Crafted from safe, anti-bacterial, #304 food service stainless steel
Big Mouth™ Sport Top crafted from 100% medical grade silicone
BPA/BPS-free and will not leach toxins like plastic sport tops, bottles, or lids
Big Mouth™ Sport Top is not designed for hot liquids
Includes medical grade silicone sleeve with a reinforced carrying finger loop
Hand wash insulated bottles, remove sleeve from bottle to dry
Lifetime warranty on stainless components.
BPA/BPS-free ; NonToxic Certified
David:
a few months ago
Long before I ever heard of "BPA", I never felt comfortable pouring scalding hot water in a bottle with plastic parts. So, the idea of "plastic free" has always been attractive to me.
Whether this is a good buy depends on what you use it for. If you are expecting a bottle that'll keep your water very hot for a very long time, this might not be your best bet. I filled the bottle with water just below boiling point at 9am, by 1pm, temperature dropped to about 60 degrees, by 6pm, temperature dropped to about 30 degrees. But since I bought this bottle for my baby so that he can have access to warm water when we are out in a park or visiting a friend, it holds the temperature longer than we need. I also carry a non-insulated pura bottle filled with cold water because half of the time, the water is still too hot to drink. So for me, it's a perfect product.
Page
1