Sprout Living Epic Protein Green Kingdom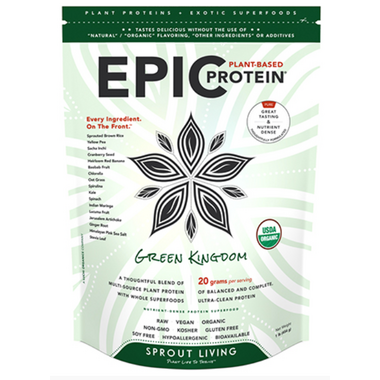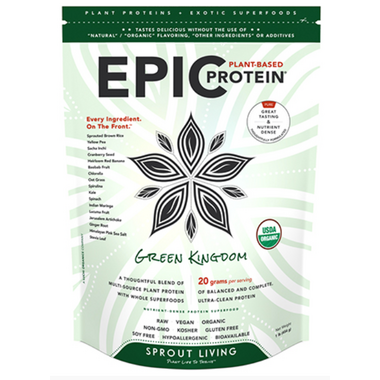 Sprout Living Epic Protein Green Kingdom
Sprout Living crafts nutrient-dense, organic plant protein powders and functional foods that are made strictly from whole superfoods packed with vitamins, minerals, antioxidants and other phytochemicals without any additives.
Green Kingdom
starts with our organic plant proteins, which are handpicked for their balanced and complete protein content, natural bioavailability and rich nutritional synergies and provide 20 grams of complete protein per serving. Our potent blend of land and sea plant life includes Spirulina, an antioxidant-rich blue-green algae with supplies of protein and vitamins A, K and B; Kale, which is high in vitamins A, C and K and has a superb calorie to protein ratio; and Indian Moringa, or the "Clarifier Tree," an incredibly nutritious plant that has significant quantities of calcium, protein and vitamins A, B and C, resulting in an incredibly dynamic, superfood-enriched protein powder that will help boost and strengthen your body.
Features:
Nutrient-dense
Organic plant protein powder
Non GMO
Kosher
Vegan
Vegetarian
Organic
Gluten Free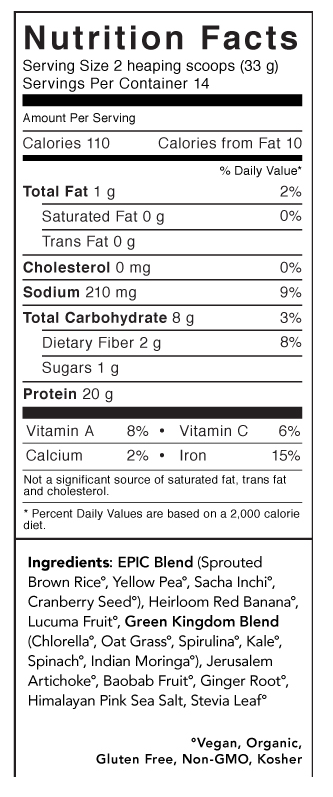 Caryn:
more than a year ago
I tried this product for the first time and I absolutely love it. It is now my go to protein powder. It has an amazing list of ingredients. Tastes good as is and is totally plant based! It is the perfect pick me up for before or after a workout. I highly recommend this product.
Page
1