100% Pure Acai Pulp Facial Scrub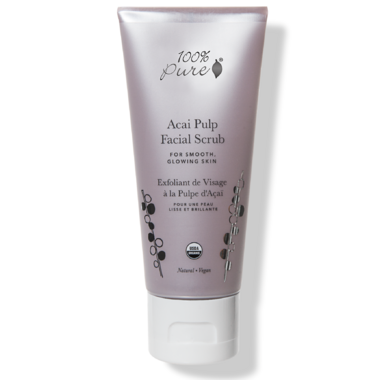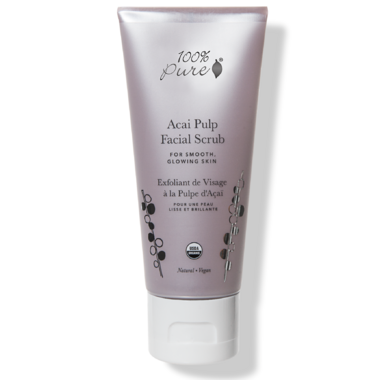 100% Pure Acai Pulp Facial Scrub
Crushed, organic acai berries deeply nourish skin by replacing lost moisture and feeding your skin essential vitamins, minerals, antioxidants, and fatty acids. Smoothes away bumps, flakes, and dead skin cells for a super soft, glowing complexion. Naturally high in vitamins A and C, acai berries can brighten and balance skin's appearance.
For Whom: For all skin types.
Directions For Use: Apply two half dollar sized amount to slightly damp, cleansed skin and massage gently in circular motions for a minimum of 1 minute, onto face and neck. Rinse with warm water, or leave on for additional 15 minutes as a facial mask before rinsing.
Ingredients: Organic Glycerin, Organic Vitis Vinifera (Grape) Seed Exfoliant, Organic Euterpe Oleracea (Acai) Fruit Extract, Organic Coffea Arabica (Coffee) Oil, Organic Lycium Barbarum (Goji) Fruit Extract, Organic Vitis Vinifera (Grape) Seed Powder, Organic Euterpe Oleracea (Acai) Seed Powder, Organic Oleracea (Acai) Seed Oil, Organic Euterpe Oleracea (Acai) Seed Extract, Organic Sambucus Nigra (Elderberry) Fruit Extract, Organic Myrica Rubra (Yumberry) Fruit Extract, Organic Lycium Barbarum (Goji Berry) Powder, Organic Garcinia Mangostana (Mangosteen) Extract, Organic Citrus Aurantium Bergamia (Bergamot) Fruit Oil, Organic Citrus Sinensis (Sweet Orange) Oil, Organic Lonicera Japonica (Japanese Honeysuckle) Flower Extract
Vegan, Natural, Gluten Free, Fair Trade, Non-GMO, Organic