Aerobie Aeropress Coffee Maker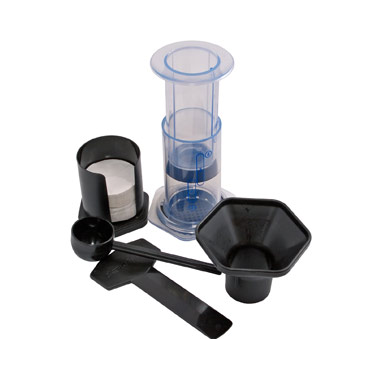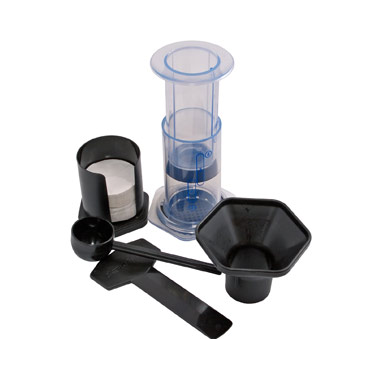 Aerobie Aeropress Coffee Maker
The AeroPress coffee maker is a new kind of coffee press that brews coffee under ideal conditions: proper temperature, total immersion, and rapid filtering. This results in amazingly delicious coffee with a wide range of beautiful flavors but without bitterness and with very low acidity. Since its introduction the AeroPress has become a much beloved brewer for serious coffee lovers and coffee professionals around the world.
Features:
Rapid, total immersion brewing process makes delicious full flavored coffee without bitterness
Makes 1 to 3 cups per pressing in about one minute
Brews regular American style coffee
Brews espresso style coffee for use in lattes and other espresso based drinks
Microfilter means no grit in your cup (unlike a French press)
Clean up takes just seconds
Bisphenol-A (BPA) and phthalate free
Made in the U.S.A.
The AeroPress coffee maker is most commonly used in the home kitchen but it is lightweight, compact, and durable, making it ideal for use when camping, backpacking, boating, or just traveling.
The Aeropress comes bundled with everything that you need (apart from the coffee and a grinder) to get started:
Aeropress
Stirrer
350 filters
Filter holder
Coffee funnel
Scoop
Coffee Lover:
more than a year ago
Stunned by the perfect cup of coffee this produces. I make one 8 oz cup by using the included scoop of ground beans, hot water to the #2 mark, stir, press, then top up with hot water. I did get the goose neck bonavita electric kettle. It's heats the water to the correct temperature and much easier to pour into the tube.
Page
1