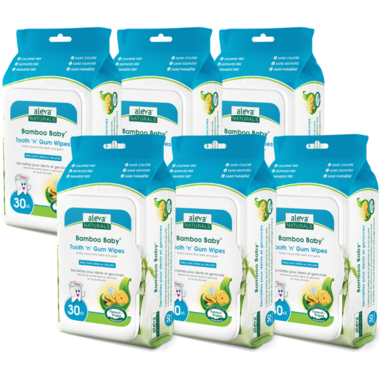 Description
Ultra-soft wipes, formulated with pure, plant-based ingredients, to safely clean little teeth and gums. Includes Xylitol for added protection and a brighter smile. It's important to introduce your baby to good oral hygiene habits from the moment they are born. Even if they don't have teeth yet, it is important to make sure to clean out their mouth after drinking milk, formula or juice. Perfect for on the go and biodegradable in 28 days!
Wetting a cloth seems like a lot of work, especially when the rough edges are going into your baby's mouth. Aleva Naturals has developed Tooth n Gum Wipes especially for this purpose! The textured Bamboo Baby Tooth n Gum Wipes make it easy to wrap around your fingers and clean your baby's little teeth and gums. They are formulated with pure, plant-based ingredients and Xylitol for added protection and a brighter smile. These ultra-soft, unbleached wipes provide a deep clean feel, and are safe and gentle enough to use as a daily routine. The compact packaging design makes it easy to fit in a purse or diaper bag!
Features:
Hypoallergenic
Biodegradable
Chlorine Free
Unbleached
Ultra Soft
Vegan Friendly

Cruelty Free
Harsh Chemical Free
Eco-friendly
Ingredients:
Water/Eau, Glycerin, Xylitol, Sodium Benzoate, Glycyrrhiza Uralensis Root Extract, Citric Acid, Potassium Sorbate, Lauryl Glucoside, Lonicera Japonica Flower Extract, Aloe Barbadensis (Aloe Vera)* Leaf Juice Powder. *Certified Organic
Avoid contact with eye area. For external use only. Not intended for use as a baby cleaning wipe. Keep out of reach of children.
Please Note: Aleva Naturals is a Canadian brand. Their wipes and diapers are manufactured in China. All other skincare and cleaning products are made in Canada.
Highlights