Allmax Aminocore Blue Raspberry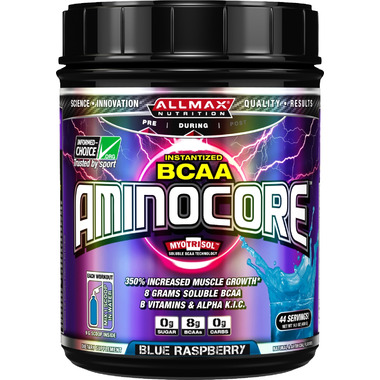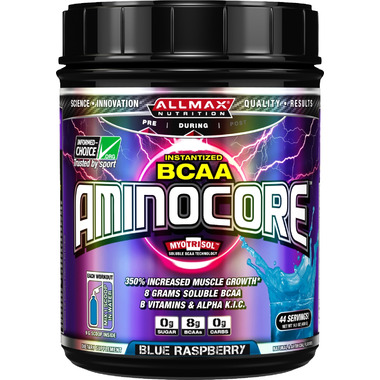 Allmax Aminocore Blue Raspberry
Unbelievably delicious and remarkably convenient, Allmax Aminocore Blue Raspberry solves the ultimate athlete dilemma – fast anabolic support with extremely high, research-directed dosages of brached chain amino acids (BCAA) – no matter where you are! Perfectly measured, ultra convenient, single-serve stick packs and absolutely delicious – what could be better?
When you can´t get a sufficient level high quality protein, or are in a caloric deficit, your body will literally break down and feed on your hard-earned muscle tissue. Allmax Aminocore Blue Raspberry is the bodybuilder's best friend – close-at-hand, ridiculously easy-to-mix and most amazingly, absolutely delicious (BCAAs are normally awful tasting!) Best of all, with an exclusive Myotrisol Instantizing process, Allmax has made Allmax Aminocore Key Lime Cherry easy-to-drink and delicious.
Features & Benefits:
Stimulates protein synthesis in skeletal muscle for enhanced lean mass accumulation
Spares muscle fuel stores for improved performance and endurance
Boosts your immune system during intense exercise
Reduces muscle breakdown (powerful anti-catabolic effects)*
Along with dieting, BCAAs can help you tap into fat stores, while hanging on to hard-earned muscle
Serves as a fuel source during prolonged exercise when glycogen stores have been depleted (a fact that makes these aminos unique)
Humans must consume BCAAs – unlike other amino acids, we cannot make these on our own.
A full 33% of skeletal muscle is comprised of branched chain amino acids
BCAAs are the only amino acids used directly as fuel by your muscles
Directions:
To activate protein synthesis and increase muscle recovery, take 1 scoop of Allmax Aminocore Key Lime Cherry during weight training or any athletic event. On non-training days, Allmax Aminocore Key Lime Cherry can be taken anytime on an empy stomach. Mix 1 scoop into a 16.9 oz (500 mL) bottle of water or a tall glass of water (2 cups). Shake or stir well. Take during workouts. Carefully read instructions on label and follow directions before use.