Allmax IsoNatural Whey Protein Unflavoured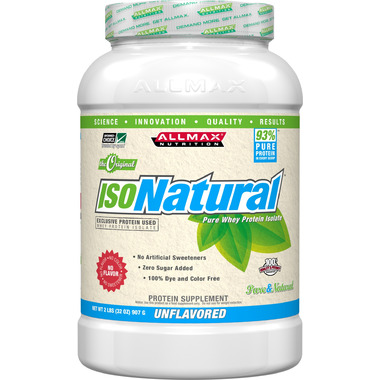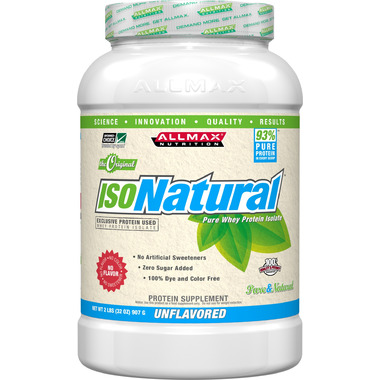 Allmax IsoNatural Whey Protein Unflavoured
Allmax IsoNatural Whey Protein Isolate is fortified with NutraFlora, a unique patented Prebiotic ingredient that enhances calcium absorption while supporting a healthy immune and digestive system. This pure and natural formula has also been fortified with two synergistic complexes; Grape Seed Extract and Acerola Cherry Extract. These two antioxidant complexes provide protection against cell-damaging free radicals, while providing 15% of the body's vitamin C requirements.
Allmax IsoNatural Whey Protein mixes quickly and easily in water, low-fat milk, or can be used in any of your favorite recipes to increase the protein content. It's a natural, pure and delicious way to reach your daily protein requirements from the highest biological value protein available.
Allmax IsoNatural Whey Protein protein powder is extracted through CTP (Cold Temperature Process) Microfiltration. This technology employs a truly unique protein extraction technology that suspends pure protein fractions in their native state, thereby eliminating the need for harsh chemicals and denaturing heat. This process allows Allmax IsoNatural Whey Protein to have an exceptionally high protein yield, while maintaining essential bioactive components and extraordinary bioactive whey fractions.
Features & Benefits:
No sugar
No artificial flavour
No colour added
28 grams of pure whey protein in every scoop
Fat free
99% Lactose free
1 gram of carbohydrate