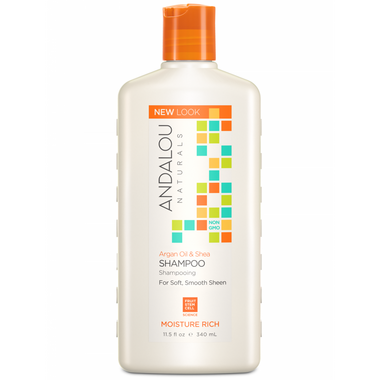 340 mL
ANDALOU naturals Argan Oil and Shea Moisture Rich Shampoo
is rated out of
5
by
79
.
---
Description
ANDALOU naturals Fruit Stem Cell Science improves hair follicle longevity and vitality for healthy hair from root to tip.
Sweet orange revitalizes follicles and healthy circulation. Omega rich Argan oil deeply penetrates each strand, repairing and restoring moisture, elasticity and strength, minimizing split ends and frizz with amazing luster and shine.
Benefits:
Dry, Curly and Treated Hair
Features:
Made naturally without GMO's, gluten, paraben preservatives, petrochemicals, phthalates, sulfates, synthetic colours, dyes and fragrances
Verified Gluten-Free
100% Eco-friendly
Vegetarian
Cruelty-Free
100% Sulfate Free
Colour Safe
Ingredients:
Aloe Barbadensis Leaf Juice*, Purified Water (Aqua), Sodium Lauroyl Sarcosinate, Cocamidopropyl Betaine, Sodium Olefin Sulfonate, Vegetable Glycerin, Fruit Stem Cells (Malus Domestica, Solar Vitis) and BioActive 8 Berry Complex*, Argania Spinosa (Argan) Kernel Oil*, Amino Acid Complex (Arginine, Threonine, Serine), Hydrolyzed Rice Protein, Persea Gratissima (Avocado) Oil*, Lauryl Glucoside (and) Stearyl Citrate, Panthenol, Hydrolyzed Soy Protein, Butyrospermum Parkii (Shea) Butter*†, Sorbitol, Theobroma Cacao (Cocoa) Seed Butter*, Aspalathus Linearis (Rooibos) Extract*†, Camellia Sinensis (White Tea) Leaf Extract*†, Tocopherol, Allantoin, Polyquaternium 10, Sodium Benzoate, Lactic Acid, Potassium Sorbate, Ethylhexylglycerin, Vanilla Isolates, Citrus Aurantium Dulcis (Orange) Peel Oil*
*Organic
† Fair Trade
Highlights

Rated

5

out of

5
by
Mary
from
I liked the sunflower Andalou shampoo a lot; it made me a fan of Andalou products. I tried this one for more frizz control and daily pool hair in the summer. It is really nice, we get along fine. Surprisingly, my husband got rid of dandruff using this shampoo. He used all kinds of medicated shampoos before and it looks he just had a dry scalp. I am not crazy for the orange smell but, surprise again, my husband really likes it.
Date published: 2012-08-06
Rated

1

out of

5
by
Michaela C.
from
Not for thick hair
I have oily, thick hair. I generally wash it every other day and and look for moisturizing shampoos in an attempt to convince my head not to produce so many oils. The first problem I had with this shampoo is that I had to use about twice as much as a normal shampoo because it was so thin and didn't lather in my thick hair. I was still hopeful that it would be a good shampoo, but alas, it is not. After a month of use, my hair feels more oily, even directly after showering, and because it isn't being washed properly feels heavier. On the bright side, it smells good. Not worth the money.
Date published: 2020-04-20
Rated

5

out of

5
by
Marissa
from
Very nice--one of the few natural shampoos I've come across where the ingredients list doesn't send me running, and one of the few shampoos ever that leaves a scent in my hair! I can smell the orange all day. Cleans nicely and rinses out wonderfully. I honestly can't stop touching my hair after washing with this product, it's so soft. HIghly recommend, as well as the accompanying conditioner.
Date published: 2016-02-03
Rated

3

out of

5
by
Chloe
from
This is more moisturizing than Andalou's brilliant shine shampoo. This is great for my ends but my hair near my scalp looks greasy almost immediately. This does my make hair very soft and easier to get a brush through. I don't seem to need conditioner with it. To me the smell is sickly sweet and smells a bit like cough syrup. I won't be repurchasing because of the smell.
Date published: 2016-10-06
Rated

5

out of

5
by
Michelle
from
Giving this a five star because it works fantastically - foams great and makes my hair feel clean without drying it out. That being said I don't agree with the other reviews - the smell isn't terrible but it isn't wonderful by any means. Picture blending up a cough medicine and orange creamsicle smothie - not greatbut not the worst shampoo out there
Date published: 2016-01-25
Rated

5

out of

5
by
Leanne
from
LOVE IT and the conditioner. First, it's cruelty free. Second, it's a very natural product that is organic and fair trade. Third, and I have to say this is the most important - it smells like creamcicles!!! Oh, and my otherwise coarse, short hair is softer and has less frizz. I guess that's important too. :)
Date published: 2013-06-18
Rated

2

out of

5
by
Elizabeth
from
This shampoo was very disappointing. The fragrance was intense and I felt I had to use quite a lot to get the job done. I'm used to low-lather shampoos, but this was just watery. I also would not recommend this shampoo for people with sensitive scalps.
Date published: 2014-10-01
Rated

5

out of

5
by
Caitlyn
from
This product does great to cleanse my hair. I'm not sure how often the other reviewers wash their hair, but with a 2-3 day wash cycle for me, it doesn't leave my hair dry at all and actually makes it so I can last longer between washes. I only use this shampoo on my scalp and rinse a bit of the runoff through my ends just to give it a quick cleaning - and it works perfect for me. This is my second purchase of this shampoo, and I will repurchase again when I run out.
Date published: 2014-11-29