Ardell Double Up False Lashes
#204
1 Pair of False Lashes
Ardell Double Up False Lashes
is rated out of
5
by
5
.
Ardell Double Up Lashes have twice the amount lashes for a more dramatic look. Double layer style gives you a fuller, thicker look. Reusable. Each lash strip is knotted and feathered by hand to achieve the highest quality. Achieve the ultimate glamour look with these styles!
Application Directions:
Thoroughly clean your eyelashes and eyelids so they are make-up and oil free.
Check Fit - Lay lash on top of your natural lash. If it extends beyond your lash line, trim the excess with small scissors.
Apply Adhesive - Squeeze a thin line of LashGrip Adhesive along the lash band. A toothpick can be used to spread it evenly. Wait about 30 seconds for adhesive to set.
Apply Lash - Place the lash as close to your natural lash line as possible. Use your fingertip to gently press along the band to secure in place.
Additional Image: (Lash enlarged to show detail)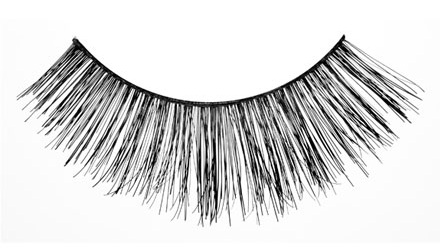 Other Ardell Lashes Products
Rated

5

out of

5
by
tmmylynng
from
Great product. Can use
Great product. Can use up to 5-10 times (I wouldn't go to 10 for hygienic purposes) but the point is the band is so strong that they do not get weak over time. They are easy to clean and great to continue using. Very affordable and beautiful looking. Great quality
Date published: 2021-04-18
Rated

4

out of

5
by
muskanc9
from
Such an amazing product
Such an amazing product of Ardell. Perfect eyelashes and perfect colour. So awesome. Will recommend to buy it again and again. Highly enjoy applying it. Cannot stop myself from using it. ##loveit #Ardell Ardell DEMI WISPIES
Date published: 2021-03-28
Rated

4

out of

5
by
riap14
from
Lasted a long time although lash was a little bit long for me and it was kinda heavy but overall its good, can be used a couple of times, price is okay. Easy to use/apply. Would buy again
Date published: 2020-10-02
Rated

5

out of

5
by
bryannaa8
from
I love these lashes
I love these lashes they're super nice, I love the Length, I'm always using them the minute I get up and get ready! HIGHLY RECOMMEND!!
Date published: 2021-01-24
Rated

5

out of

5
by
nels
from
my favourite falsies for
my favourite falsies for dance recitals and events. they are the best! super affordable and super effective
Date published: 2021-01-26