ATTITUDE
ATTITUDE Super Leaves Bulk To Go Shampoo Volume & Shine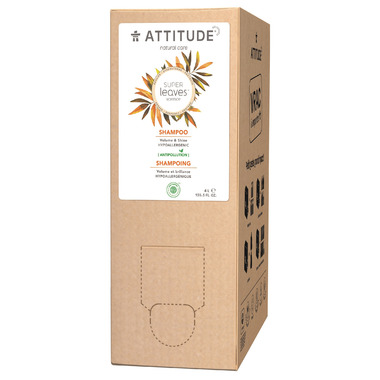 ATTITUDE
ATTITUDE Super Leaves Bulk To Go Shampoo Volume & Shine
Description
Buying this product plants a tree for a better tomorrow!
Bulk To Go! Thanks to the genius of science, ATTITUDE Super Leaves products feature active ingredients extracted from leaves! Bring the benefits of leaves to your everyday! Watercress and Indian cress super leaves are known for their regenerative abilities and for being high in minerals, vitamins and growth factors. These powerful elements are extracted and used in ATTITUDE Super Leaves shampoo formula to help strengthen and revitalize hair, promoting the production and structural support of keratin from root to tip. Bulk format to quickly and easily refill your ATTITUDE Super Leaves Shampoo.

Ideal for fine and flat hair, ATTITUDE's Volume & Shine Shampoo is enriched with antioxidants, soy protein and cranberry extract, which contribute to boost your hairs volume.

Features:

Cranberry has astringent, purifying and antioxidant properties
Soy protein has a restorative effect, toning down frizz and adding shine to hair Moringa seed extract, with its cleansing and purifying power, helps decrease the adhesion of pollutants and detoxifies the hair and scalp
Aroma of orange and cardamom
ATTITUDE surfactants are made of plant-derived glucose and fatty alcohols
Free of ethoxylated bi-products contaminated with cancer-causing chemicals (1,4-dioxane and ethylene oxide), such as SLES/SLS

Free of potentially harmful preservatives such as phenoxyethanol, parabens, formaldehyde or formaldehyde-releasers, benzyl alcohol and MIT
4L bulk format
Buying this Super Leaves product plants a tree for a better tomorrow

Bottle not included

Ingredients: Aqua/water/eau (solvent) Sodium coco-sulfate (surfactant) Coco-glucoside (surfactant) Vegetable glycerin (humectant) Sodium cocoyl isethionate (surfactant) Citric acid (pH adjuster) Panthenol (vitamin B5 Җ hair conditioner) Glyceryl oleate (emulsifier) Sodium benzoate (active constituent) Inulin (emollient) Potassium sorbate (active constituent) Nasturtium officinale (watercress) extract (active constituent) Tropaeolum majus (Indian cress) extract (active constituent) Maltodextrin (binder) Moringa oleifera seed extract (anti-pollution active) Hydrolyzed soy protein (conditioner) Vaccinium macrocarpon (cranberry) fruit extract (active constituent) Decanal (fruit active constituent) Pentadecalactone (fruit ֖ active constituent) Raspberry ketone (conditioner)
Highlights

Features
Cranberry has astringent, purifying and antioxidant properties
Soy protein has a restorative effect, toning down frizz and adding shine to hair Moringa seed extract, with its cleansing and purifying power, helps decrease the adhesion of pollutants and detoxifies the hair and scalp
Aroma of orange and cardamom
ATTITUDE surfactants are made of plant-derived glucose and fatty alcohols
Free of ethoxylated bi-products contaminated with cancer-causing chemicals (1,4-dioxane and ethylene oxide), such as SLES/SLS

Free of potentially harmful preservatives such as phenoxyethanol, parabens, formaldehyde or formaldehyde-releasers, benzyl alcohol and MIT
Ingredients
Aqua/water/eau (solvent) Sodium coco-sulfate (surfactant) Coco-glucoside (surfactant) Vegetable glycerin (humectant) Sodium cocoyl isethionate (surfactant) Citric acid (pH adjuster) Panthenol (vitamin B5 Җ hair conditioner) Glyceryl oleate (emulsifier) Sodium benzoate (active constituent) Inulin (emollient) Potassium sorbate (active constituent) Nasturtium officinale (watercress) extract (active constituent) Tropaeolum majus (Indian cress) extract (active constituent) Maltodextrin (binder) Moringa oleifera seed extract (anti-pollution active) Hydrolyzed soy protein (conditioner) Vaccinium macrocarpon (cranberry) fruit extract (active constituent) Decanal (fruit active constituent) Pentadecalactone (fruit ֖ active constituent) Raspberry ketone (conditioner)