ATTITUDE Super Leaves Natural 2-in-1 Sport Shampoo & Body Wash For Men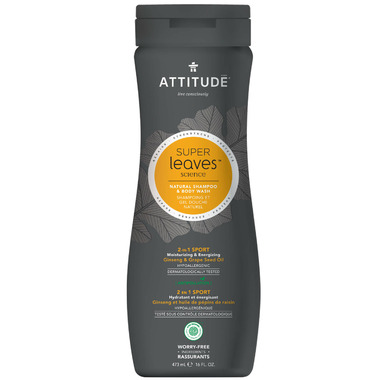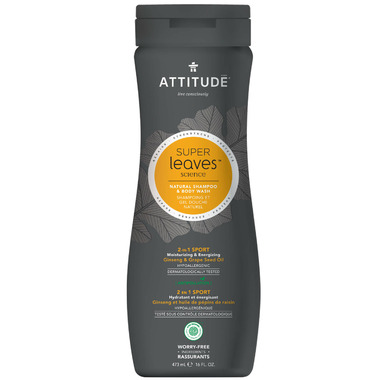 ATTITUDE Super Leaves Natural 2-in-1 Sport Shampoo & Body Wash For Men
Thanks to the genius of science, ATTITUDE Super Leaves products feature active ingredients, extracted from leaves!
Bring the benefits of leaves to your everyday! Watercress and Indian cress super leaves are known for their regenerative abilities and for being high in minerals, vitamins and growth factors. These powerful elements are extracted and used in ATTITUDE Super Leaves shampoo and body wash formulas to help effectively regenerate, strengthen and stimulate all hair types and promote healthy skin.
In addition to being a shampoo, ATTITUDE's 2-in-1 Sport is also a shower gel. It is enriched with ginseng extract and grapeseed oil, known for their antioxidant, regenerative and restorative properties – which is suitable for dry hair. Moisturize your hair and energize your mind!
Features
:
Ginseng extract tones and stimulates hair growth, while protecting the skin
Grapeseed oil is known for its antioxidant, regenerative and restorative properties
Moringa seed extract, with its cleansing and purifying power, helps decrease the adhesion of pollutants and detoxifies the hair and scalp.
A masculine aroma with notes of white cedarwood, neroli and bergamot.
ATTITUDE surfactants are made of plant-derived glucose and fatty alcohols, free of ethoxylated bi-products contaminated with cancer-causing chemicals (1,4-dioxane and ethylene oxide), such as SLES/SLS
Ingredients
:
water/eau (solvent)
Sodium coco-sulfate (surfactant)
Coco-glucoside (surfactant)
Vegetable glycerin (humectant)
Sodium cocoyl isethionate (surfactant)
Citric acid (pH adjuster)
Panthenol (vitamin B5 – hair conditioner)
Glyceryl oleate (emulsifier)
Sodium benzoate (active constituent)
Inulin (emollient)
Potassium sorbate (active constituent)
Nasturtium officinale (watercress) extract (active constituent)
Tropaeolum majus (Indian cress) extract (active constituent)
Maltodextrin (binder)
Moringa oleifera seed extract (anti-pollution active)
Panax ginseng root extract (active constituent)
Vitis vinifera (grape) seed oil (emollient)
Triethyl citrate (antioxidant)
Methyl dihydrojasmonate (jasmine – active constituent)
Linalyl acetate (floral – active constituent)
EWG Verified, Cruelty Free, Vegan, Hypo-Allergenic, CO2 Neutral, EcoLogo Certified, Sustainable