ATTITUDE Super Leaves Natural Shower Gel Energizing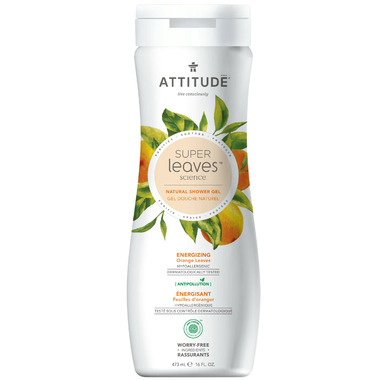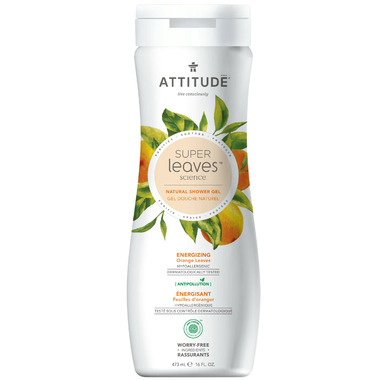 ATTITUDE Super Leaves Natural Shower Gel Energizing
Thanks to the genius of science, ATTITUDE Super Leaves products feature active ingredients, extracted from leaves!
Bring the benefits of leaves to your everyday! Watercress and Indian cress super leaves are known for their regenerative abilities and for being high in minerals, vitamins and growth factors. These powerful elements are extracted and used in ATTITUDE Super Leaves shower gel formulas to help promote healthy skin.
ATTITUDE's Our Energizing Shower Gel is enriched with orange leaf extract, known for its antioxidant, regenerative, refreshing and restorative properties. You will love its aroma that reminds us of orange and cardamom.
Features
:
Moringa seed extract, with its cleansing and purifying power, helps decrease the adhesion of pollutants and detoxifies the skin
ATTITUDE surfactants are made of plant-derived glucose and fatty alcohols, free of ethoxylated bi-products contaminated with cancer-causing chemicals (1,4-dioxane and ethylene oxide), such as SLES/SLS
Ingredients
: Aqua/water/eau, coco-glucoside, sodium coco-sulfate, vegetable glycerin, sodium cocoyl isethionate, glyceryl oleate, citric acid, sodium benzoate, potassium sorbate, nasturtium officinale (watercress / cresson) extract, tropaeolum magus (Indian cress / capucine) extract, maltodextrin, moringa oleifera seed extract, citrus aurantium dulcis (orange) leaf extract, decanal (fruit), pentadecalactone (fruit), raspberry ketone.
EWG Verified, Cruelty Free, Vegan, Hypo-Allergenic, CO2 Neutral, EcoLogo Certified, Sustainable