Aura Cacia
Aura Cacia Cinnamon Leaf Essential Oil
100% Pure Essential Oil 15 mL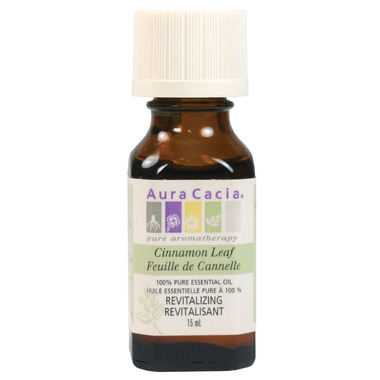 100% Pure Essential Oil
15 mL
---
Description
The fresh, spicy aroma of cinnamon leaf is more reminiscent of cloves than cinnamon. Energizing, focusing and revitalizing, cinnamon leaf enhances active reasoning when diffused into the air. (This powerful oil can be a skin irritant and should not be applied directly to the skin.)
This essential oil is obtained by steam distillation of the leaves and twigs.
Botanical Name: Cinnamomum verum

Ingredients: Cinnamomum verum (cinnamon leaf) oil
Product Notes:

Color: Yellow to brownish
Viscosity: Mobile
Top Note: Warm-spicy
Middle Note: Warm-spicy
Dry Note: Tenacious and warm-spicy
Aromatherapy Actions: Refreshing, vitalizing
Safety Data: A skin and eye irritant. Non-toxic.
Highlights