Aura Cacia
Aura Cacia Spearmint Essential Oil
100% Pure Essential Oil 15 mL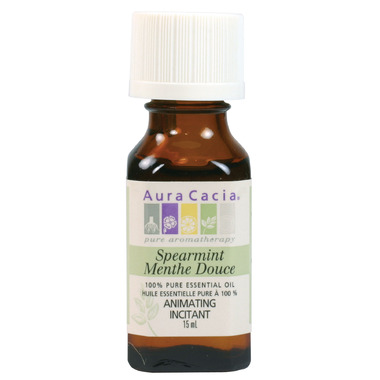 100% Pure Essential Oil
15 mL
Aura Cacia Spearmint Essential Oil
is rated out of
5
by
18
.
---
Description
This sweet, minty oil offers a softer, more gentle energy than its botanical cousin peppermint. You can blend spearmint oil with lavender oil to make a calming children's bath.
Botanical Name: Mentha spicata

Ingredients: Mentha spicata (spearmint) oil
Product Notes:

Color: Pale yellow to colorless
Viscosity: Mobile
Top Note: Very fresh, sweet, minty, green, weedy
Middle Note: Strong, warm, minty-weedy, sweet
Dry Note: Warm, minty
Aromatherapy Actions: Cooling, gently vitalizing, refreshing.
Safety Data: Non-toxic, non-irritant, non-sensitizing.
Highlights

Rated

5

out of

5
by
Dani
from
Love this oil. Aura Cacia's spearmint is beautiful. Very potent but so mild and comforting in it's applications. I once used this instead of peppermint in a homemade lip balm and it turned out beautifully. You aren't "slammed" with a mint or the tingling that sometimes goes along with peppermint, but the scent was beautiful, juicy and took me back to being a kid and chewing old-fashioned spearmint gum. It is very soothing and helps with mood and clarity.
Date published: 2016-07-14
Rated

5

out of

5
by
JJ1
from
Interesting
So I bought this on a whim to mix with other scents and I have to say I'm not a huge fan of spearmint in diffusers. However, the quality of this is amazing and the scent throw was powerful. You only need like 3 drops of this per use so this little bottle will last you a long time. If you love spearmint, I would recommend this.
Date published: 2021-04-15
Rated

4

out of

5
by
Pat
from
I've only used it in diffusers at this point, and the smell reminds me of my dentist, which is a smell that I don't care for. Mixing it with lavender for example is a quick fix for that though. Using it in toothpaste makes a whole lot of sense.
Date published: 2014-03-25
Rated

5

out of

5
by
Shannon
from
First time trying this oil and love it! It's so much nicer in toothpaste and mouthwash than peppermint is in my opinion. I've also used it to make wonderful smelling Christmas body scrubs!
Date published: 2016-11-09
Rated

5

out of

5
by
Brenda
from
Love this oil! Though truthfully I would like a bigger bottle but I just buy 2 when it's on sale. My favorite mixed with eucalyptus in a roller with some jojoba or avacdo oil as a carrier
Date published: 2018-01-19
Rated

4

out of

5
by
Katie
from
Well priced and you don't need to use much at all. I bought it to make my own toothpaste, but also put a few drops in cleaners we make just for the freshness of it.
Date published: 2011-11-15
Rated

5

out of

5
by
Sherry
from
love the scent of spearmint, add to water in spray bottle to freshen mattresses and pillows
Date published: 2018-05-01
Rated

5

out of

5
by
Ali
from
This is great for making my own toothpaste, a change from peppermint
Date published: 2017-11-01