Aura Cacia
Aura Cacia Vanilla Absolute Essential Oil Blended in Jojoba Oil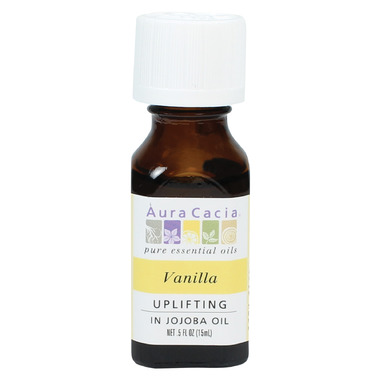 Aura Cacia
Aura Cacia Vanilla Absolute Essential Oil Blended in Jojoba Oil
Description
Deliciously scented vanilla, a common ingredient in perfumes, is extracted from the cured seed pods of a tropical orchid. Its familiar aroma—deep, rich and sweet—comforts the emotions and calms the spirit. Wear it as a sensual, all-natural perfume.
Ready-to-use right out of the bottle. This 100% pure essential oil is pre-blended with jojoba oil.
Botanical Name: Vanilla planifolia

Ingredients: SIMMONDSIA CHINENSIS (JOJOBA) OIL, VANILLA PLANIFOLIA (VANILLA) CO2 EXTRACT.
Highlights