Avene XeraCalm A.D Lipid-Replenishing Balm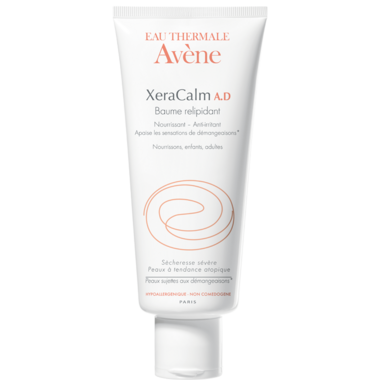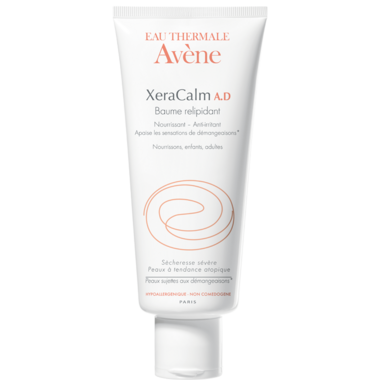 Avene XeraCalm A.D Lipid-Replenishing Balm
XeraCalm A.D Lipid-replenishing balm nourishes very dry skin and soothes itching sensations, for infants, children and adults.
Benefits
:
XeraCalm A.D Lipid-replenishing balm is based on a multi-competent formula created around an active innovation: I-modulia®
I-modulia : A biotechnological innovation developed by Pierre Fabre Laboratories after 12 years of research; reduces itching sensations due to dry skin, soothes redness/irritations due to skin hyperreactivity, allows skin to protect itself once again
CER-OMEGA: repairs/nourishes the skin and strengthens the protective hydrolipidic film
Avène Thermal Spring Water: Soothes, reduces sensations of discomfort, and softens the skin.
Skin is soothed, nourished and comfortable. It is no longer "itchy".
*Patent pending
The XeraCalm A.D Lipid-replenishing balm is specifically formulated for all moderate to severe dry skin, for infants, children and adults:
Atopic-prone skin
Skin prone to irritations and itchiness due to dry skin
Naturally dry skin
Formulated according to the Sterile Cosmetics charter: frangrace-free, paraben-free, and created with actives chosen for their efficacy and innocuousness.
Application method
:
Apply XeraCalm A.D Lipid-replenishing balm once or twice a day to the dry areas of the face and/or body, after cleansing.
After use, remove all excess product and close bottle.
Katherine:
about a year ago
Absolutely love this product! I've had eczema all over my body since I was a baby & now have recently been diagnosed with psoriasis as well. I have tried almost all of the recommended creams, ointments & balms by my family doctor, dermatologist & pharmacist over the years. Through trial & error Avene has consistently given me relief from the itching, greatly reduced the dryness & redness for my skin. Even had a nurse comment that I " had the good stuff". I only wish that it wasn't so expensive. I have so many topical sensitivities to a lot of the eczema creams on the market. This one always works for me. I highly recommend it!
Kara:
more than a year ago
I have bad eczema on my hands and I purchased this to stop the itching, moisturize and help my hands heal. It does a pretty good job reducing the itching. It stays on your hands for a very long time but doesn't feel greasy. However, I'd almost prefer a greasy feeling to the matte, dry feeling I get from this cream. Will definitely use up the bottle but not sure if I'd purchase again.
Page
1