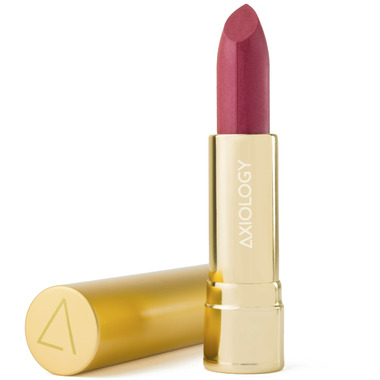 Description
Axiology's deeply nourishing formula is comprised of all-natural ingredients that keep lips soft and kissable—for hours on end. The comfortable, long-lasting pigments maintain their rich color while providing continuous moisture. With a silky-smooth finish and safe, delicious elements, this lip line is made for the conscious and kind lipstick devotee.

Shades
:
Attitude: Perfect for Spring and Summer, Attitude glides on as a hot, hibiscus-pink pop with a blush of blue undertones. Popular among both world-travelers and urbanites, this color evokes lustrous Indian saris and bright neon billboards—and will keep your lips loaded with moisture
Identity: Inspired by the rush of peony season, Identity is a glittering cool pink with a lavender lean. This dreamy hue is perfect for a look that needs a subtle touch of off-beat color—while staying classic and collected
The Goodness: The Goodness dances on the lips in a playful, sea-shell shimmer that stays all day. The blush-pink base has a creamy finish highlighted with an added dimension of silvery sheen. Suitable for meeting your partner's parents or ocean frolicking, this shade will keep your smile shining sweetly.
Worth: Sometimes you need a fiery pout to suit your flirtatious smirk. Worth is a bittersweet red with undertones of warm tangerine that glides on with a creme-matte finish. No matter what your skin tone, Worth produces a sizzling effect that compliments both dazzling evening looks and carefree, daytime casuals
Noble: Noble is a succulent, hybrid peach-pink coral tone that keeps lips looking glossy and fresh. Supremely wearable for a first date or an interview, this color highlights your smile in a classy, honeyed glow.
Devotion: With a copper burnt-sugar base and an echo of rose quartz, Devotion is the girl-crush of natural-look lovers. Its buttery luster keeps lips flawlessly moisturized and supple. Pair Devotion with powerful eye-makeup for maximum effect, or apply every day for a nearly-bare look.
Vibration: A scarlet wash with a glint of pink, Vibration is a sunset glow on a desert rose. The matte-cream base loads your pout with moisture, keeping it punch-drunk in color. Vibration is best worn while road-tripping into the horizon, or blazing top-down through lit cityscapes.
Enlighten: Daydream up a storm in Enlighten's mesmerizing gloss. Enlighten rolls on the lips as an amethyst glaze, lifted by a silver-glitter finish. Like a rain-soaked field of wild lilacs, this color keeps your pout perfectly drenched in nourishing moisture
Desire: With a base of royal purple shot through a lilac sheen, Desire is a dreamy shade fit for a bohemian queen. Great for fun weekend wear or a naughty evening of memorable trouble, this naturally glossy color brings out your cool, Coachella vibe.
Philosophy: For both bold romantics and wall-flowers, Philosophy's ultra-smooth pink blends with a twist of salmon—bringing to life even the shyest of lips. Like a pair of well-loved ballet slippers, this shade is soft, silky, and just-a-touch sweet
Fundamental: Strong, lipstick-loving women always need a tried-and-true red in their collection. Fundamental is just that: our take on classic, cream ruby—with a hint of rose-gold finish. Punchy by day and a sexy choice for night; this hue is bold enough to frame the powerful words you speak—no matter when you're wearing it.
Virtue: Virtue is a luminous, sheer spark of golden orange that's great for balmy summer nights. With a glimmer of red, this lipstick possesses a quiet, fiery glow that's sure to light up the room.
Infinite: Flirt without words wearing Infinite's rich mulberry stain. The intense dark violet base is cheered with subtle layers of black and brown, making it the perfect hue for complexions of all shades. Worn with a cool suit, it pulls an outfit together with precision—donned with a cocktail dress, it exudes passion and confidence
Intrinsic: Sheer, subtle, and shimmering-balm, this shade will make your lips look like a wind-swept beach at golden hour. Intrinsic is ultra-moisturizing with a high-gloss sheen, best paired with a dramatic eye for ultimate flair.
Instinct: Stripped of all pretensions, Instinct is an understated nude with a sandcastle glitter. Flaxen like a metallic meadow, Instinct's shy sparkle stays mysterious and gifts your lips with lasting moisture. This versatile hue works well day or night, no matter where your fanciful spirit takes you
Bad: Dramatic and daring, this runway-ready hue pins to the lip in burnt chestnut with a copper tinge. We crafted this color with a nod to the fierce supermodels of the 90's who first donned it—and to the mavericks like Lana Del Rey and Katy Perry who are bringing it back. BAD is best worn after the sun goes down.
Theory: With a light brown base and a whisper of rose, Theory colors your lips with a matte finish. The versatility of the day-into-night hue is complemented by it's long-lasting moisturizing properties, and works especially well with a sun-kissed complexion.
Elusive: Keep them guessing with a burgundy-drenched tone that satiates your desire for stand-out color. Elusive pours onto your pout like a fine wine splash, matching an elegant ensemble or dressed-down jeans and a crisp t-shirt. Cream-based and demure, this color will enhance even the most sensual of secret rendezvous.
Existential: Deep, dynamic, and dark: meet the siren-song of shades. Existential glides on with a matte obsidian tone and holds on tight to your pout while keeping it silky-soft. Whether you're going full-on glam, gothic, or rock and roll, you can be sure your mouth will maintain the color of a black pearl, all night long.
Dimension: An earthy Fall and Winter shade, Dimension is a burnished brown sheer balm with a light shimmer finish. Ideal for everyday or special events, it's rich and dynamic hue nourishes lips long after application. Pair it well with a blushed cheek and strong eyebrow.
Phenomenon: Deep cobalt like a midnight lagoon, Phenomenon wows with avant-garde style and sci-fi sass. This sheer balm with blue and black hues will rock your bold, brave lips—whether you wear it everyday, or save it for a blue moon.
Enchant: Like blustery cliffs of wild heather, Enchant's boysenberry stain alights your lips in finespun color. The base of cool mauve with a tilt of silver keeps your pout supple and shimmering—whether worn for snow-lit walks or festival romps.
Serene: Serene's down-tempo fusion of burnished rosewood and brown sugar delicately glazes the lips. Perfect for roof-top lounging or board-room ruling, pair Serene with bold eye-shadow or a cat-eye swoop for a seductive effect.
Valor: Grounded in a velvety splash of marsala, Valor is impeccable for a sexy air of mystery—or a raucous flare of vivacity. No matter which secrets get spilled, this long-lasting shade keeps lips buttery and soft until the sun glows on the horizon
Intrigue: For days when you need a deep + demure hue, Intrigue is perfectly suited. With a base of toasted cinnamon balanced by muted rose, this versatile shade will follow you from asana mornings through to dinner party evenings. No matter where you go, your look will be cultivated and you lips will stay silky
Keen: Quirky and bold, Keen spins a spell of charisma on your smile. With a baseline color of caramelized grapefruit and the highlight of translucent watermelon, Keen's sure to turn the heads of tastemakers, every time.
Bliss: Subtle in its sensuality, Bliss is a dainty salmon pink braided with a shimmering arc of gold. Don't be mistaken by Bliss's pale luster: this hue is ride or die, lasting through the star-studded night to Sunday brunch...should you so desire.
True: True is enduring romance, a rare jewel of plant derived red. This succulent shade is a manifesto to possibility; the hue you slip on to write love letters and bucket lists. Like a wild sunrise, the deep base of vermillion crowns your pout and finishes with a canyon-coral touch.


Ingredients
: Candelilla Wax, Organic Avocado Oil, Organic Castor Oil, Organic Avocado Butter, Organic Grape Seed Oil, Organic Coconut Oil, Vitamin E Oil, Elderberry Extract, Sweet Orange Oil, Neem Seed Oil; May Contain: Iron Oxide, Mica, Titanium Dioxide, Manganese Violet.
Axiology is a luxury vegan lipstick line. Their lipsticks are natural, organic and ethical.


Creams
: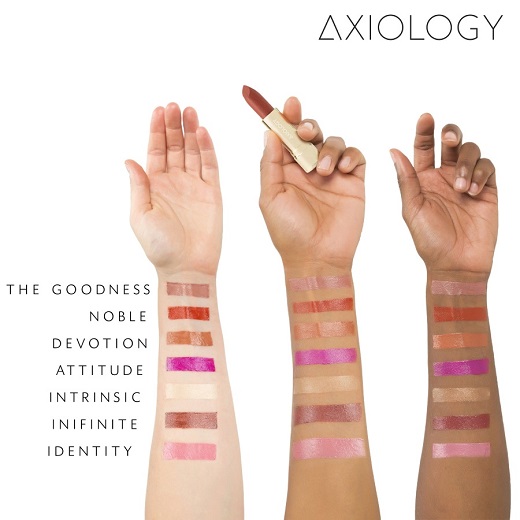 Matte: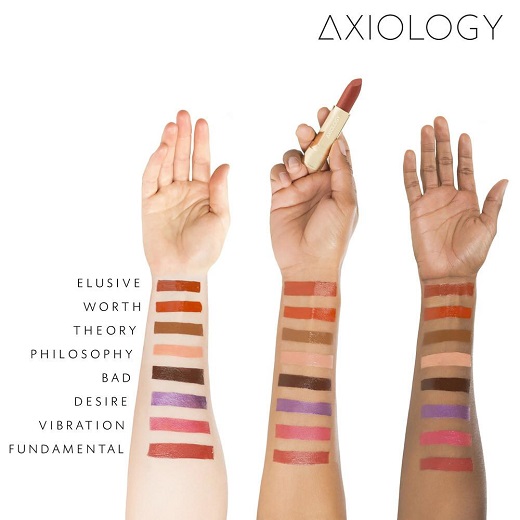 Unique: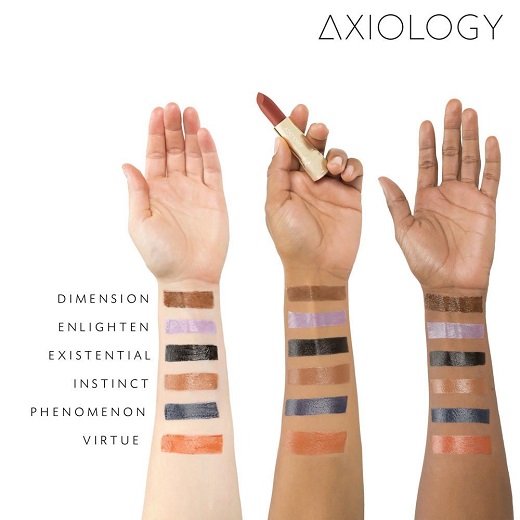 Highlights