B Yoga B MAT Strong Ocean Green
B Yoga B MAT Strong Ocean Green
is rated out of
5
by
6
.

B MAT Strong from B Yoga offers superior cushioning for the yogi looking for more comfort and support. B MAT Strong from B Yoga is perfect for those with a higher impact practice, such as Vinyasa, or for those who simply value extra comfort and cushioning during Savasana, Yin or other practices.
Weight: 5.0lbs
About B Yoga Mats:
100% rubber (both natural and synthetic)
100% azodicarbonamide free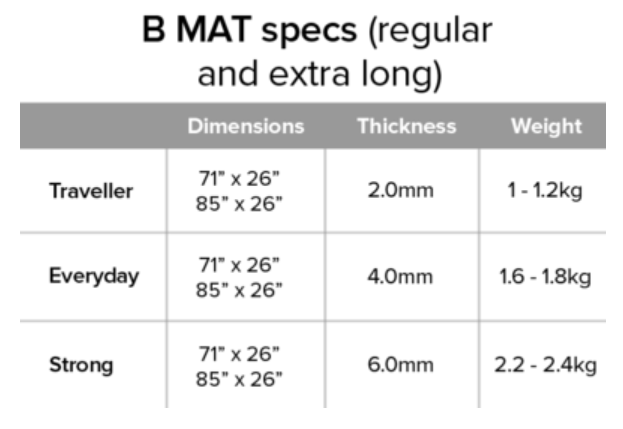 Mat Cleaning:
The best way to clean your B MAT is by wiping the surface on a regular basis with plain water and neutral soap. You could also whip up a cleaning solution with enzymatic action by mixing half water and half vinegar or lemon juice. This produces a gentle cleaner that is great on a B MAT surface.
If you feel like giving your mat a deep clean you can soak it in a bath tub, hose it down, or wash it in a washing machine set to the gentle cycle, max 30 degree water, with a mild soap (warning: saturation of the mat material can contribute to a degradation of the printed B Yoga logo).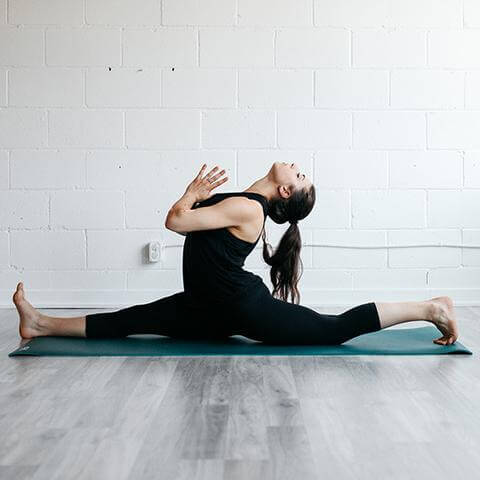 Rated

4

out of

5
by
Debclell
from
Great mat for people with boney knees like mine!
I have been using my new mat for a couple of weeks now and really like it. The thickness gives you lots of cushioning. I no longer need to put a towel under my knees to do a workout. It did smell when I first got it but I aired it out and that went away. It is sticky which sometimes makes transitioning between moves tricky but really helps to keep you stable. I would have given it 5 stars except that it is really heavy and hard to roll up - but I guess I should have known that since it is 6mm thick!
Date published: 2020-10-28
Rated

5

out of

5
by
Mike
from
Best mat I've used.
I bought this about a month ago and it's without a doubt the best yoga mat I've used to date. It's expensive but it really feels like it'll last. Also it's very grippy which is key for hot yoga, and it has good cushioning without feeling pillowy or bloated like some thicker mats do. I would highly recommend.
Date published: 2020-10-05
Rated

5

out of

5
by
heatherz28
from
Good thickness for knee comfort, excellent grip
I've only had the mat a few weeks, but so far it lives up the product description. It provides good cushioning for my knees and the grip of the rubber in this mat allows you to feel very secure - no worry about slipping when holding a position, or when pushing off your back foot to move to another position. Easy to wipe down after use. I'm very happy with this purchase - it's a big upgrade from the mat I was using previously.
Date published: 2020-11-12
Rated

5

out of

5
by
bsmith2
from
This mat has been perfect for my at home yoga and fitness classes. It stays in place and provides cushioning. I've had it for a few months and really like it.
Date published: 2020-06-24
Rated

5

out of

5
by
Jessgord
from
Favourite Mat Yet!
This is the best yoga mat I've used to date. I bought it to replace my Liforme mat since I felt it wasn't grippy enough. Pros: Hoooo boy is this sucker grippy! That foot-slip-anxiety of triangle is a thing of the past. The cushioning is great but it's also dense enough to not compromise your wrists. Also, the colour is fantastic and basically exactly as advertised. Cons: Yes, everything sticks to it. I'm constantly picking cat hairs and various bits of fluff and dust of it. I wouldn't recommend it if you have a particularly hairy pet or dusty home unless you're prepared to ignore the sea of crud attached to your mat. That said, it doesn't affect the grip unless there's a LOT of it. Second drawback is the smell. I'm at a week and a half out of the packaging and I can smell it even when I'm just near it. It's almost enough to cause a headache so if you're sensitive to smells, I'd leave it open in a garage or something until it dissipates. I'd like it to be just a bit longer and a bit wider (I'm only 5'6") but I practise at home so weight isn't an issue for me. Totally willing to put up with the drawbacks for the best mat ever!
Date published: 2021-12-14
Rated

5

out of

5
by
Kellie
from
I only wish I bought this mat sooner. I love it.
Date published: 2019-12-20