Baby Dove Tip to Toe Rich Moisture Wash
Hugs & Kisses Fragrance
591ml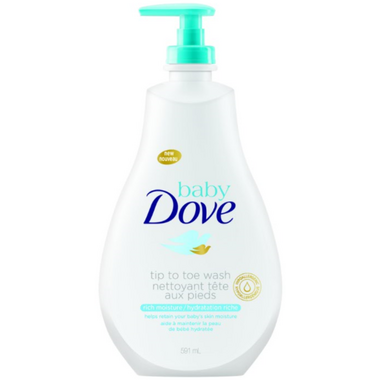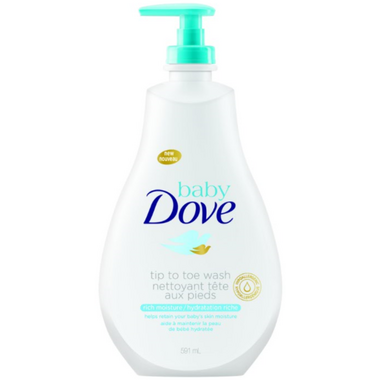 Baby Dove Tip to Toe Rich Moisture Wash
Hugs & Kisses Fragrance
591ml
Bathtime with your baby is special, so you want the best baby wash and shampoo. We know that baby skin is delicate as it is still developing throughout the first year. But did you know that it's actually 30% thinner than Dove's, making it more vulnerable? And a baby's skin barrier is weaker as it's developing, which means it loses moisture up to five times faster than our own. To help protect your little one's skin, Dove created Baby Dove Rich Moisture Tip to Toe Baby Wash.
Hugs & Kisses Fragrance:
Opening with a gentle freshness of lilac, apple and pear blossom, these bright top notes move into a tender heart of rose petals, white jasmine and peony for a delicate floral burst that envelops you and baby. As the scent develops, it settles into base notes of soft musks and creamy sweetness, cradling baby in a warm, bright scent that lingers on their skin.
And each product spotlights the fragrance differently: Soft notes of flowers and musk scent our baby bar, and leave the rich, creamy lather beautifully warm and soothing, too. As you smooth our baby lotions into baby's skin, a fruity sparkle settles into a soft, caring fragrance with the notes of white jasmine and rose petals.
Baby Dove's gentle, caring fragrance is uniquely designed to blend with and enhance your baby's own natural smell, making it just right for your baby's delicate skin.

Features:
Dove tear-free baby wash goes beyond mild cleansing; it helps retain moisture and replenish essential nutrients lost in baby's skin during bathtime, so your baby's skin is clean, soft, effectively moisturized and delicately scented for hours after bathing
Dermatologist- and pediatrician-tested, with a tear-free and hypoallergenic formula, it's just the thing to make your baby's bathtime a tub of happiness. And with a rich, creamy lather, there'll be more than enough bubbles to hear some giggles from your little one, too
Looking for something for your baby's sensitive skin? Look for the fragrance-free Baby Dove Sensitive Moisture Tip to Toe Baby Wash
Tip to Toe Baby Wash is sold in 384mL and 591mL bottles

Ingredients:
Aqua, Glycerin, Cocamidopropyl Betaine, Sodium Cocoyl Glycinate, Polyacrylate-33, Sodium Chloride, Phenoxyethanol, Sodium Lauroyl Isethionate, Stearic Acid, Caprylyl Glycol, Parfum, Lauric Acid, Styrene/Acrylates Copolymer, Sodium Palmitate, Tetrasodium EDTA, Sodium Benzoate, Sodium Isethionate, Sodium Stearate, Sodium Palm Kernelate, Citric Acid, Titanium Dioxide (CI 77891).