Badger
Badger All Season Unscented Face Stick Sunscreen SPF 35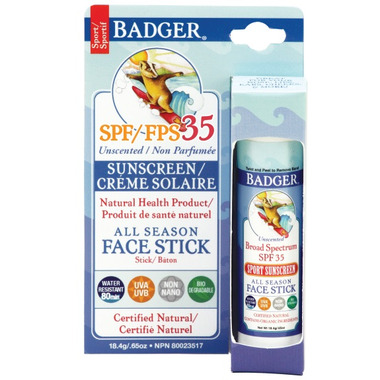 Badger
Badger All Season Unscented Face Stick Sunscreen SPF 35
Description
To meet the needs of hard-working, hard-playing Badgers everywhere, Badger Balm specifically formulated this SPF 35 Face Stick to protect skin from sun, wind, cold and water as safely and naturally as possible.
This easy to use, no-mess stick fits nicely in beach bag, backpack, and board shorts, and can even travel in your carry on bag! Biodegradable, environmentally friendly and rich in Certified Organic ingredients, this product is safe for children of all ages.
Especially good for face, ears, nose and lips, naturally VERY water resistant (retains SPF protection up to 80 minutes), blocks both UVA and UVB rays, and thoroughly moisturizes while protecting you from sun, windburn, and chapping.
Features:

Certified Natural
Biodegradable
Broad Spectrum Protection
Certified Organic Ingredients
No Animal Testing
Top rated sunscreen (with the highest rating of 1) by the Environmental Working Group
Ingredients:
Zinc Oxide 22.5%, *Extra virgin olive oil, *Beeswax, *Cocoa butter, *Shea Butter, *C02 Extract of Rosemary.
* = Certified Organic.
Highlights