Badger Antioxidant Hair Oil for All Hair Types
Seabuckthorn with Apricot & Pomegranate
59 mL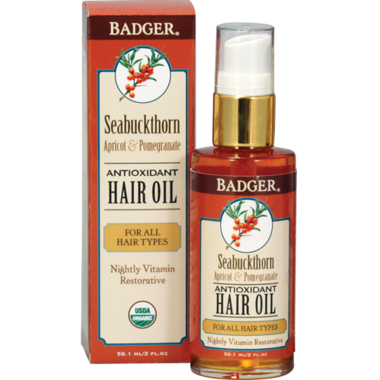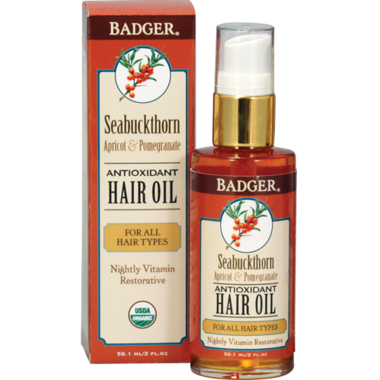 Badger Antioxidant Hair Oil for All Hair Types
Seabuckthorn with Apricot & Pomegranate
59 mL
Daily life takes a toll on the hair: sun, wind, earth, water, pollutants, and styling can impact hair health. Badger's here to help restore the balance – let them pay the toll for you!
Treat your hair to vitamin and antioxidant-rich oils and extracts, and watch the shine and luster return to overworked hair. Badger Balm has selected their most powerful oils to deliver naturally occurring vitamins A, B, C, E, and K to nourish and replenish hair. Seabuckthorn and Pomegranate promote hair strength and elasticity, and Apricot is a potent emollient, imparting moisture and shine. Rosehip possesses regenerative properties, helping hair to return to its healthiest state.
Directions for use:
Step 1: Apply oil evenly to clean, dry hair. Amount will vary depending on hair type and length.
Step 2: Massage oil into hair and scalp. Work from the roots to the tips. Use a comb or your fingers to ensure even distribution.
Step 3: Allow oil to soak into hair for 1 hour or overnight. (Tip: use an old towel to protect your linens.)
Step 4: Shampoo and condition, then style as usual.
Ingredients: *Simmondsia Chinensis (Organic Jojoba) Oil, *Helianthus Annuus (Organic Sunflower) Oil, *Prunus Armeniaca (Organic Apricot) Oil, *Punica Granatum (Organic Pomegranate) Oil, CO2 Extracts of *Hippophae Rhamnoides (Organic Seabuckthorn) and *Rosa Canina (Organic Rosehip), Essential Oils of *Lavandula Angustifolia (Organic Lavender), *Citrus Aurantium Dulcis (Organic Sweet Orange), *Pelargonium Graveolens (Organic Rose Geranium), and Tocopherol (Sunflower Vitamin E).

* = Certified Organic

Laura:
about a year ago
I wasn't sure what to expect, but this oil has a lovely scent. It does leave my hair feeling soft and I feel like I have the best results when I leave it on overnight. I think I would buy it again, but it will take awhile to get through this bottle as a little goes a long way!
Kat:
more than a year ago
Does not nourish or soften hair like Badger's Argan hair oil, but it functions well as a basic hair oil. Scent of Geranium comes through the strongest. Love the pump which allows oil to be dispensed as drops, & you only need about less than the size of a 1 cent coin for hair at shoulder length for normal hair (not thin, limp, or thick hair). I find myself reaching for the Argan version instead of this one because it provides nourishment & softens hair which is what I'm looking for in any hair oil. Gave 4/5 for rating for this oil because it has great ingredients, but I doubt I will repurchase this as I prefer the benefits provided by the Argan Badger hair oil.
Page
1