Badger
Badger Foot Balm
Peppermint & Tea Tree 56 g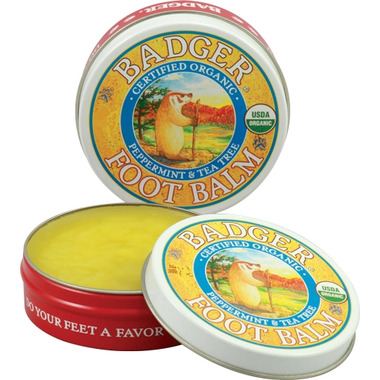 Peppermint & Tea Tree
56 g
Badger Foot Balm
is rated out of
5
by
41
.
---
Description
Long-Walking Lonesome Bob Badger says, "Two paths diverged in the woods and I... I took both of them... but I couldn't have done it without my Foot Balm." Yellow-gold in colour, minty cool and invigorating, it helps to revive tired feet. The Tea Tree and Eucalyptus Oils have anti-fungal properties, while the Mint and Rosemary are also anti-bacterial. Nice fragrance! So Foot Balm is ideally suited for soothing, smoothing and healing your dry, sore, tired, hard working, hard walking feet.

Ingredients: *Extra Virgin Olive Oil, *Castor Oil, *Jojoba Oil, *Golden Yellow Beeswax, and Essential Oils of *Rosemary, *Peppermint, *Balsam Fir, *Eucalyptus, *Tea Tree & *Cardamom.
* = Certified Organic by the USDA
Highlights

Rated

5

out of

5
by
Kat
from
Has an earthy scent which I've never smelled before. Also up close, you can smell some of the individual essential oils such as eucalyptus. Provides gentle relaxation of feet after application. I massage my feet while applying the product but when I compare the difference between massaging my feet with and without the product, there is a noticeable improvement when the product is used. It's also moisturizing as well due to the balm like texture which includes olive oil and other moisturizing ingredients.
Date published: 2014-10-24
Rated

3

out of

5
by
Maayan
from
I haven't been using this product daily so it's hard for me to comment on how effective it actually is. I have very dry heels and it's not easy to find a cream that works; after reading stellar reviews on this product I decided to purchase it in the larger format. It's very rich and greasy so I'd imagine that overtime it *should* help if used consistently, but no results on my end yet. I do like the all-natural ingredients and personally I'm enjoying the minty smell :)
Date published: 2016-04-23
Rated

5

out of

5
by
NK
from
Super impressed with the results!
I have tried other foot lotions and foot balms but I have not seen results like this one. It has soften my cracked and dried skin after a couple of uses. It's not overly greasy but feels soothing and moisturizing. I use it at night before bed and have been using it as frequently as I remember to. It's been great! Definitely will repurchase and highly recommend!
Date published: 2021-12-08
Rated

4

out of

5
by
Anne L.
from
It is a solid balm.
I have used it for a few days to see how it works on my heels. After one week I noticed that my heel was getting rough again. So not I used it with another foot balm that works well for my heels. Someone told me that I must not go barefoot. I do not anymore, because I use compression socks so that I won't have pain in my legs.
Date published: 2021-04-11
Rated

2

out of

5
by
Chanelle
from
This product is alright but I don't love it as much as I wanted to. The balm is very hard and it's difficult to get enough out of the tin to coat your foot, even after warming it in your hands. I was left a little disappointed with the scent as well, it barely has a smell and I was expecting a refreshing peppermint.
Date published: 2017-03-21
Rated

5

out of

5
by
Jim
from
Love this stuff! I bought a small can while we were in Vermont. I have/had terrible cracks on the heels of my feet. They are almost totally gone now. It does have a pepperminty odor as others have said, but, it works, so I can put up with the smell! Highly recommend!
Date published: 2011-09-02
Rated

4

out of

5
by
Amy
from
Lovely gentle stuff, like other Badger balms. Very moisturizing and pepperminty. Not the best thing to have on your feet when wearing sandals since it leaves your skin a bit oily, and dirt will tend to stick. But it's great for the end of the day before bed.
Date published: 2011-07-26
Rated

4

out of

5
by
L
from
Smells really clean, and i love that it's natural! Works really well. I use it right after I give myself a foot bath and pedicure and use the little socks to hold it in. Don't think I'd use it daily though because it is greasy on the hands etc.
Date published: 2014-01-03