Baubles + Soles Twist Lock Shoes Moonlight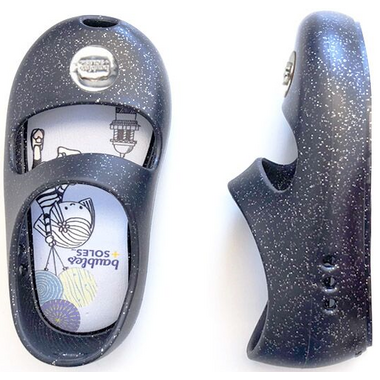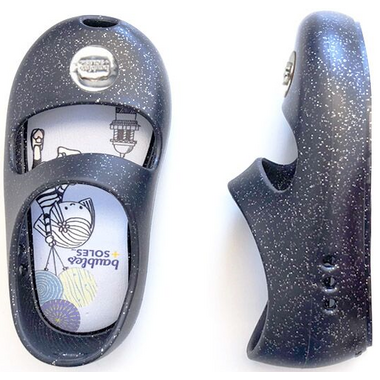 One shoe for everyday, water play, dress-up and occasions. Interchangeable twist lock allows you to change out the
baubles
to style with different outfits. The patented material is strong yet soft, lightweight and flexible for growing feet. It's made of a recyclable blend of plastics that is far superior than other plastics used in similar shoes and sandals.
They teamed up with a premier engineering firm in Canada, Voth Engineering, to design a twist lock that is secure, functional and easy to use. The baubles easily attach with an insert-and-twist mechanism and can withstand a 30 lbs. pull-force.

Features:

Made the USA
Water resistant
Slip Resistant
Peephole for easy slip-on
Air vents for breathability
One piece construction
Colourfast, will not fade
Light vanilla scent
Vegan
Eco-friendly and fully recyclable via the Baubles + Soles recycling program.
Care Instructions: Soles (shoes) are machine washable and 100% dishwasher safe. Baubles are non-toxic and eco-friendly. Wipe down your baubles with a warm wash cloth to keep them looking beautiful and new.
Please note: The Baubles + Soles shoe with the twist-lock comes with a heart bauble attached, and is able to be used with all of the interchangeable baubles.