Bean Crisps Cha-Cha Chili Bean Chips
Thin & Crispy Popped Bean Chips
170g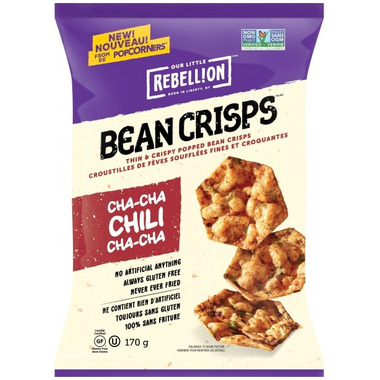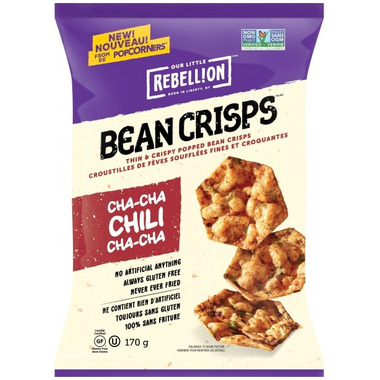 Bean Crisps Cha-Cha Chili Bean Chips
Thin & Crispy Popped Bean Chips
170g
PopCorners' Bean Crisps are the next generation of guilt-free snacking, made from black beans, green and yellow split peas with all the nutrients and fiber that anyone could want. Plus, with flavours like Cha Cha Chili, Saucy Salsa (Verde), and Salt of the Earth, these crisps have everything you need to snack happy. For happy and healthy living, do one better.
Cha-Cha Chili packs bold flavors and savory heat that will leave your taste buds dancing. Loaded with natural protein and fiber, every crisp is drizzled with sunflower oil and sea salt that add the finishing touch to this spicy snack.
Ingredients:
PEA BLEND (GREEN SPLIT PEA, YELLOW SPLIT PEA, BLACK BEAN), YELLOW CORN, SEASONING (TAPIOCA MALTODEXTRIN, SPICES [INCLUDING ANCHO CHILE PEPPER POWDER], EVAPORATED CANE SUGAR, SEA SALT, TOMATO POWDER, GARLIC POWDER, ONION POWDER, GREEN BELL PEPPER POWDER, DEHYDRATED GREEN ONION, EXTRACTIVES OF PAPRIKA, MALIC ACID, NATURAL FLAVOUR), SUNFLOWER OIL.