Beco Gemini Baby Carrier Nimbus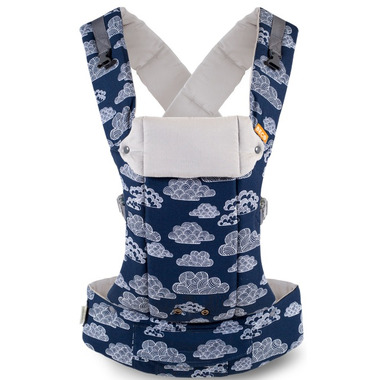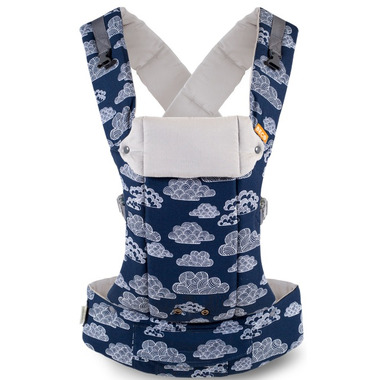 Beco Gemini Baby Carrier Nimbus
- We're sorry, this product is no longer available!
- Shop for other products in: Carriers

The Beco Gemini is a great all-purpose soft structured carrier for babies from newborn to about 18 months. It allows you to wear your baby from birth through toddlerhood in a single carrier. The Gemini is sleek, stylish and incredibly comfortable. A huge perk to the Beco Gemini is its ability to safely and comfortable hold your baby in a forward-facing position. Most forward-facing baby carriers don't support a baby's thighs, which puts all your baby's weight on the base of it's spine, compressing vertebrae with each step and bounce. Sleeping babies will definitely benefit from the high headrest in the Beco Gemini which comfortably cradles your baby's head eliminating neck discomfort.
The Beco Gemini is shorter and narrower in the body than the other carriers, and has no sleeping hood (just a headrest), so it's not ideal for use with toddlers, but it is a very good, comfortable, intuitive and easy-to-use carrier for newborns and younger babies.
Features:
4 in 1 baby carrier
Newborn to toddler (7-35 lbs/3.5 - 16 kg)
Front carry (facing in and facing out), back carry, and hip carry
Great for nursing
Direct contact intuitive baby carrier
High quality tested materials
Machine washable
Instruction manual included
Designed in California
Responsibly made in China
Shell: 100% Cotton
Fill: 100% Polyurethane (body & shoulder foam), 100% polyethylene (waist foam)
Flame retardants free
Packaging: 100% recycled content, printed with soy based inks
Does not require an infant insert

Measurements:
Body 13" wide x 18.5" tall with head rest up, 14" tall with headrest folded
Shoulder straps 23" (can be adjusted up to 22" LONGER for a total of 45")
Waist belt 28"(size 0) can be adjusted up to 57"
Weight capacity of the carrier: 7-35 lbs (3.5-16kg)
Weight of the carrier: 1.5 lbs
What's Included:

Foldable head rest
Adjustable base for growing baby
Instructional booklet
Awards Received:
Red Tricycle - Most Awesome Carrier - 2012/2013 Sleekest Slings & Baby Carriers
Buyer's Guide
iParenting Media
PTPA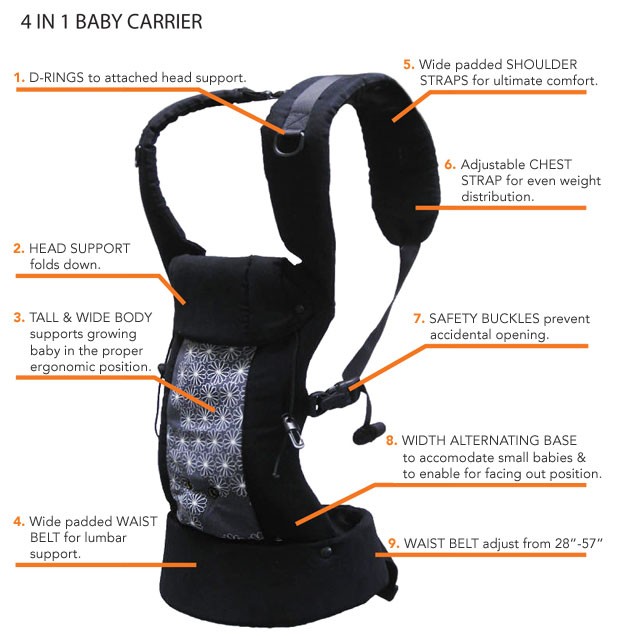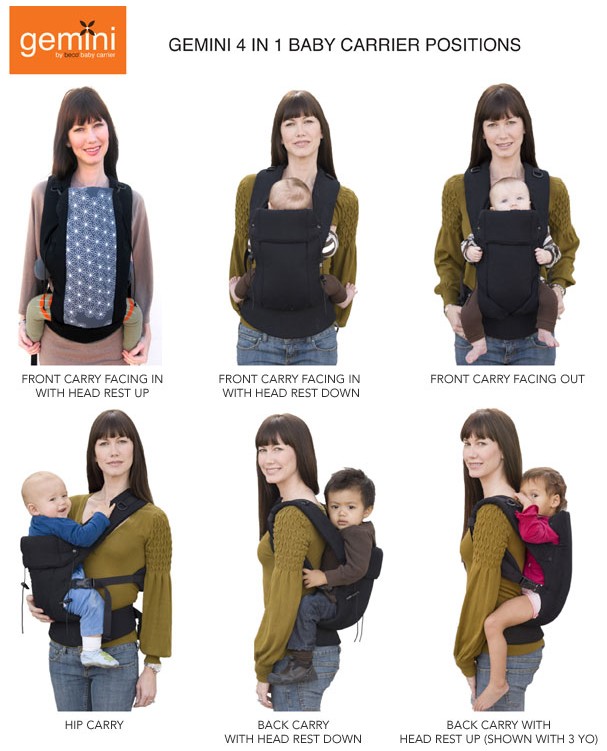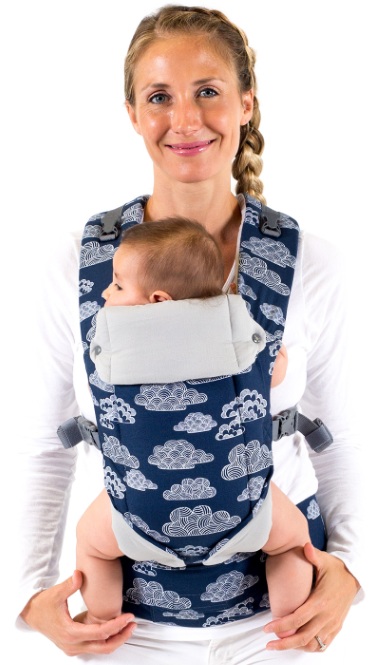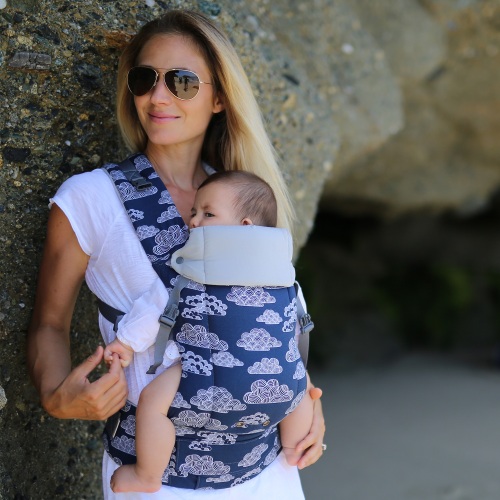 Kimberly:
more than a year ago
We can over 6+ hours in this. I ditched the umbrella stroller and always use this! Once fit correctly, it feels like a backpack. We bought it for the forward facing and BF option but I love the backpack carry and ND bubs loves to snuggle close into my chest on colder days. It's way more convenient then lugging the stroller down the stairs with a baby and dog in tow then walking with the dog beside the stroller. We're not limited anymore to where we can go. I do wish that the head support went lower when placed down - it lines up to bubs mouth which can be annoying when he's front facing. My son is 22lbs, over 2 ft, 9 months and feels like a feather plus chores can get done now without a crying fit. Also! It does have a phone/cards pocket or doggy bag holder as we use it. Aha.
Erin:
more than a year ago
I absolutely love this carrier! It's extremely lightweight, comfortable, and secure. I will say that although it is very safe for a newborn, it is too tall for my daughter even at 5 weeks (9+ lbs and 22" long), so I have to sit her on a rolled up receiving blanket even with the top snapped down or her head is several inches below the top. That would be the case for pretty well any SSC though, and the fact that she sits safely without an infant insert is huge for her comfort in the summer heat. Gorgeous print, too!
Page
1