Better Life Stain & Odor Eliminator Eucalyptus & Lemongrass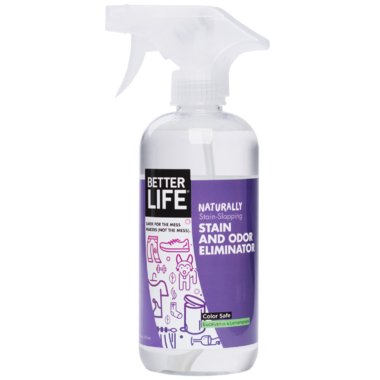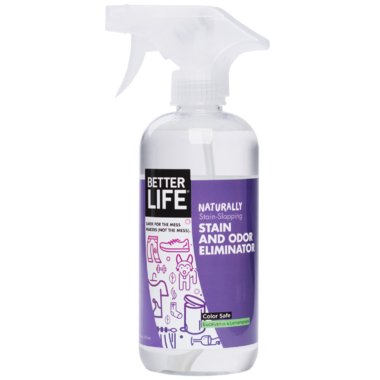 Better Life Stain & Odor Eliminator Eucalyptus & Lemongrass
- We're sorry, this product is no longer available!
- Shop for other products in: Stain Removal

Better Life Stain & Odor Eliminator is a colour-safe stain and odor eliminator that puts spots and smells in their place, releasing dirt and naturally neutralizing unwanted aromas. It's the best of clean for the worst of times.
Features:
Non toxic and biodegradable
Safe around kids, pets, and the planet
Never tested on animals
Kind to waterways and marine life
Made in USA with solar energy
DOES NOT CONTAIN: Sodium Lauryl/laureth sulfates, Petrolum solvents, Parabens, Ethers, Synthetic fragrances, Alcohol, Ethoxylates, Dyes.
Directions:
Clothing:
Pre-treat tough stains and smells from grass, dirt, blood, sweat, and grease by spraying directly onto the problem area until it's saturated. Launder as usual. Use as a laundry booster by adding 2 oz. to your wash cycle.
Carpet and Furniture:
Clean up any excess mess. Spray directly onto the area and blot with a damp towel. Repeat if necessary.
Athletic Gear:
Simply spray and wipe to clean and deodorize. Great for yoga mats, moisture-wicking fabric, fitness equipment, shoes, gym bags, massage tables, and more.
Ingredients:
Purified Water, disodium cocoglucoside citrate, sodium citrate, melaleuca alternifolia oil, lauryl glucoside, quillaja saponaria bark extract, eucalyptus globulus oil, anthemis nobilis flower oil, cymbopogon schoenanthus oil, lavandula angustifolia oil, mentha viridis leaf oil, yeast extract, mehylisothiazolinone
While Better Life is non-toxic, it's better as a cleaner than a beverage. Don't drink, and keep out of reach of children.