Bioderma
Bioderma Sensibio H2O Micellar Water
For sensitive skin 250 mL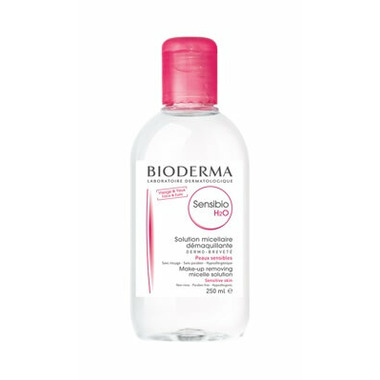 Bioderma
Bioderma Sensibio H2O Micellar Water
For sensitive skin
250 mL
---
Description
Sensibio H2O gently cleanses and removes make-up from face and eyes. The micelles contained in its formula ensure impurities are removed while respecting the cutaneous balance. Cosmetic active ingredients reduces worming sensations. The patented natural D.A.F. complex raises the skin's tolerance threshold.
Features:
For sensitive skin
Cleanses and removes make-up from the face and eyes
Produces a feeling of instant freshness
Non-rinse
Even removes water-resistant make-up
One bottle of Sensibio H2O sold around the world every 2 seconds!
Fragrance-free formula
Alcohol-free
Paraben-free
Hypoallergenic
Dosage:
Morning and/or evening – 7 days a week
1. Soak a cotton pad with Sensibio H2O.
2. Gently cleanse and/or remove make-up from your face and eyes.
3. Re-apply until the cotton pad becomes clean.
4. Lightly dab your face with a clean cotton towel.
Ingredients:
Water (Aqua), Peg-6 Caprylic/capric Glycerides, Cucumis Sativus (Cucumber) Fruit Extract, Mannitol, Xylitol, Rhamnose, Fructooligosaccharides, Propylene Glycol, Disodium Edta, Cetrimonium Bromide.