Biore Self Heating Mask With Natural Charcoal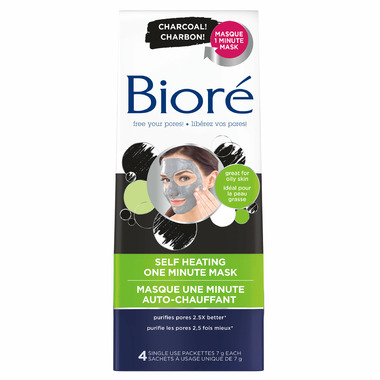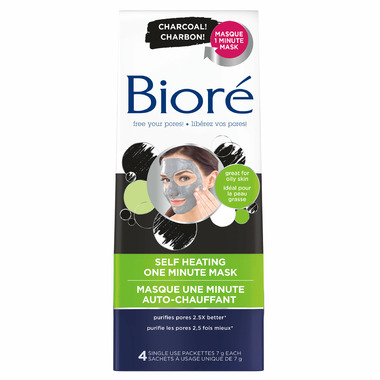 Biore Self Heating Mask With Natural Charcoal
Melt away the stress with Biore Self Heating Mask With Natural Charcoal. Melt away the dirt and oil. Infused with natural charcoal, this thermal mask opens pores and draws out dirt. It finishes with a cooling sensation for tingly-smooth skin in just one minute. Mix this charcoal face mask with water to increase heating action by 2x. Talk about turning up the heat.
Heats on contact with water to open pores and draw out pore-clogging dirt and oil, then cools leaving skin tingly smooth and refreshed.
Features:
Oil-Free
Dermatologist Tested


HOW TO USE:
Before using, please read cautions and usage instructions. For best results, use on clean face.
WET FACE. Leave face wet – the Bioré® Self Heating One Minute Mask is activated by water.
APPLY MASK. Dry hands, open single-use packette, dispense contents into hand and apply mask to face. You may add a little water to your fingers to help spread the mask and activate warming.
MASSAGE for about 1 minute. As you massage, the mask will heat up. For more heating action or for your preferred consistency, massage in a little water. The mask does not dry/harden.
RINSE. After one minute has passed, thoroughly rinse with water to remove the mask.

INGREDIENTS:
BUTYLENE GLYCOL, ZEOLITE, KAOLIN, PEG-8, METHYL GLUCETH-20, CELLULOSE, TALC, FRAGRANCE, LAURYL METHACRYLATE/GLYCOL DIMETHACRYLATE CROSSPOLYMER, CHARCOAL POWDER, DIMETHICONE, HYDROXYPROPYLCELLULOSE, MENTHOL, DISODIUM EDTA, BHT

paulina:
about a year ago
Bought these at a drugstore for more money so I will be buying these on well from now on. These are amazing masks! I usually buy high end masks and don't touch drug store ones but these caught my eye. They heat up and have a cooling tingly after. I have sensitive skin covered in oil and acne and these don't irritate it st all. In fact, they remove so much gunk from my nose pores that it's impressive. If you like biore nose strips, get these masks. I use a nose strip after a mask and wow what a difference. The strips pull out WAY more after a mask than without. And I would know cause I've done it both ways. Really really recommend these masks.
Page
1