Blistex
Blistex Daily Conditioning Lip Treatment SPF 20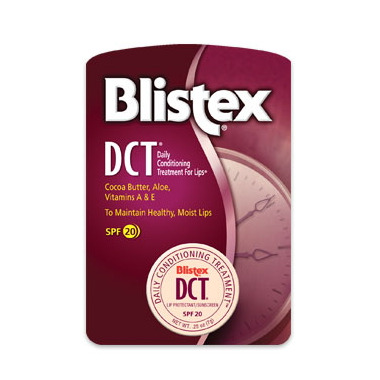 Blistex
Blistex Daily Conditioning Lip Treatment SPF 20
Description
Blistex DCT combines moisturizers, vitamins and protectants to provide a daily maintenance regimen for your lips.
DCT keeps your lips in perfect condition every day of the year, in all climates, through all activities.

Smooth and Supple Lips: DCT nurtures your lips with two proven moisturizers, Aloe and Cocoa Butter, plus Vitamin E. DCT softens and smoothes the surface of lips to help them look and feel young. DCT helps to prevent and replenish moisture-starved cells that can occur from daily exposure to dry air and other environmental conditions.

Sun Protection: Aminobenzoic acid (PABA)-free DCT provides SPF 20 protection.

Sun Alert: Limiting sun exposure, wearing protective clothing, and using sunscreens may reduce the risks of skin aging, skin cancer and other harmful effects of the sun.