bmiSMART I-REMOVE Litramine Fat Binder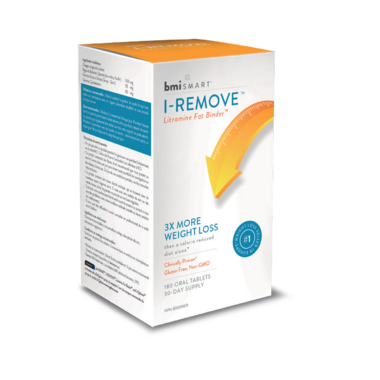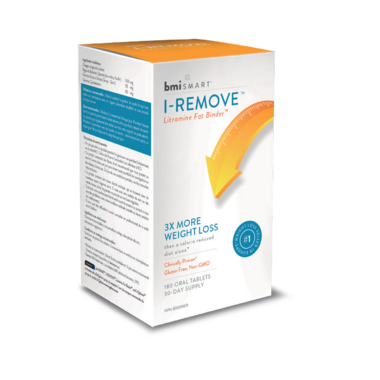 bmiSMART I-REMOVE Litramine Fat Binder
bmiSMART I-REMOVE Litramine Fat Binder is a weight management supplement that helps to support weight management when used with a
calorie-reduced diet and regular physical activity and it is also gentle on the body.

Recommended Dose: (Adults): Take 2 tablets with liquid, 3 times per day
immediately after each main meal. Take 2 hours before or after taking other
medications and/or natural health products. Take with at least 1 glass of liquid.
Maintain adequate fluid intake. The product can also be used once your target
weight is achieved. Take 2 tablets with liquid as needed - immediately after a
fatty meal. Do not exceed 6 tablets a day.

Ingredients: Medicinal Ingredients: Each tablet contains Prickly-pear (Opuntia ficus-indica, Leaf) 300 mg, Acacia gum (Acacia Group - Gum) 115 mg,
Gamma-Cyclodextrin 85 mg. Non-Medicinal Ingredients: Microcrystalline cellulose, Croscarmellose sodium, Silicon dioxide, Magnesium stearate.

Cautions and Warnings: Do not take this product during pregnancy or while breastfeeding/nursing; or if your BMI (Body Mass Index) is below 18.5. As this product contains fibres, it is recommended that you take at least 8 glasses of water a day to avoid any possibility of constipation or stomach discomfort. If any of these conditions persists, please consult your physician. This product contains trace amounts of oxalic acids, which are found in many other green vegetables. If you have kidney disease or kidney stones, avoid taking this product on a regular basis. Consult your healthcare professional before taking this product if you have any existing medical conditions or taking any medications. If you have difficulty swallowing, consult a health care practitioner prior to use. Keep out of reach of children.