Braun
Braun Series 9 9295cc Wet & Dry Shaver with Pop Up Precision Trimmer
with Clean & Charge Station and Travel Case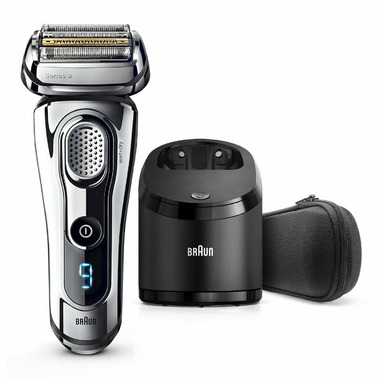 Braun
Braun Series 9 9295cc Wet & Dry Shaver with Pop Up Precision Trimmer
with Clean & Charge Station and Travel Case
---
Description
The Braun Series 9 is our best electric shaver with 5 synchronized shaving elements, world's strongest Sonic technology and an intelligent AutoSensing motor to shave more hair in one stroke than any other shaver. A 100% waterproof razor designed to last up to 7 years, and a trimmer reinforced with Titanium coating
5 shaving elements:
HyperLift&Cut trimmer: Lifts and cuts flat lying hairs.
Direct&Cut trimmer: Aligns and cuts hairs growing in different directions.
Protective SkinGuard: Smoothens the skin for an exceptional shaving experience.
2x Opti-Foil™: For perfect closeness that lasts longer.
10-D Flexible Shaving System: Independently flexible cutting elements mounted on a 10 directional pivoting head: MicroMotion combined with MacroMotion for maximum facial adaptability, giving you more skin contact for a more thorough shave.
Features
:
Clean & Charge Station:The World's only 5-action alcohol-based Clean & Charge station. It automatically lubricates, dries and charges your shaver.
Titanium coating: As beautiful as gold yet much harder. Titanium is an extremely durable metal and highly resistant to corrosion. Plus, it makes quite an appearance. That's why Braun uses it for the coating of the trimmer.
SyncroSonic™ technology with 40,000 cross-cutting actions per minute.
Multiplied by Sonic technology. Braun's patented SyncroSonic™ technology reads and adapts to your beard. Checking its density 160 times per minute. Providing extra power exactly where needed most.
Intelligent AutoSense Technology
An innovative motor reads the density of your beard and adapts the shaver's power 13x per second. Providing the right amount of power even with denser beard.

Precision trimmer: The integrated and skin-friendly precision trimmer slides out of the back of the shaver for easy and more accurate sideburn shaping.
MultiHeadLock: The easily accessible MultiHeadLock locks the fully flexible shaver head in five positions to achieve a more precise shave. This is especially helpful when shaving hard to reach areas, like under the jawline and under the nose.

Grip for secure handling: The rubberized, textured grip zone features Braun's signature dot pattern. It ensures safe and confident handling even in wet conditions.
100% waterproof: Experience premium German engineering quality. All Braun shavers are waterproof up to 5 metres, so you can conveniently rinse them under running water or even shave under the shower.
Shave wet or dry: With Series 9 you can shave dry or use water, foam or gel for even better gliding and a smoother skin feeling.
50min cordless shaving: The state-of-the-art Li-Ion battery never loses performance and fully recharges in one hour. The premium LED display counts down the remaining minutes of shave time.
LED display: All information at a single glance: the precise LED display shows battery status, hygiene status and travel lock indicator.
Running/Charging time: Fully charged in 1 hour. Shaves for 50 minutes. State of the art Li-Ion battery delivers power reliably. Quick-charge for one shave in only 5 minutes.