Breath Mate Breath Refreshing Herbal Supplement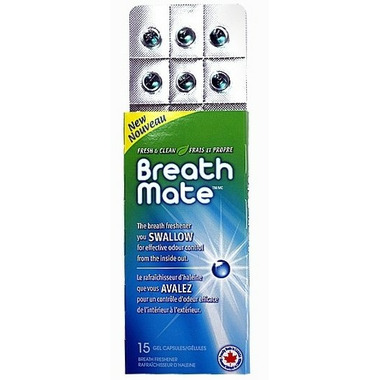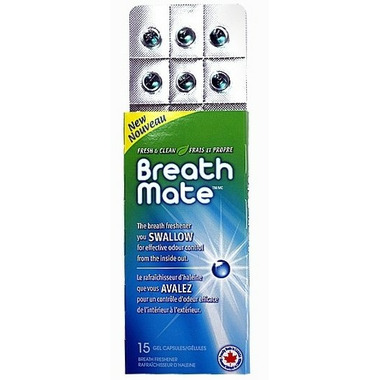 Breath Mate Breath Refreshing Herbal Supplement
Breath Mate Breath Refreshing Herbal Supplements are an all-natural breath freshener that you swallow for fresh breath from the inside out. Each pack contains 15 pearls that are easy to swallow for fresh breath any time. Case contains 12 packs. With no artificial colours, flavours, sugar, or gluten they are perfect for anyone!
Features:
All natural and easy to swallow
Sugar, gluten and dye free
Blend of peppermint, caraway, parsley and thyme oils
Proudly made in Canada
Adults: 2 capsules 3 times per day.
Medicinal ingredients:
Peppermint oil (Mentha x pepita, herb flowering), Caraway oil (Carum carvi, seed), Thyme oil (Thymus vulgaris, herb flowering)
Non-medicinal ingredients:
gelatin, peppermint oil, parsley seed oil, soybean oil.
Caution
: Hypersensitivity (e.g. allergy) has been known to occur; in which case, discontinue use. Some people may experience gastroesophageal reflux.