Buck Naked Soap Company Himalayan Salt Soak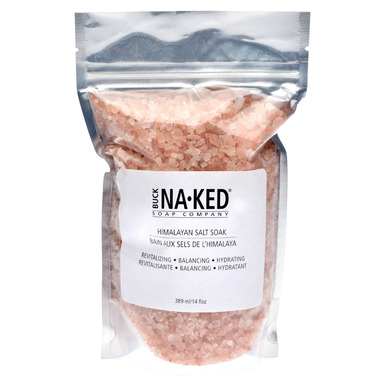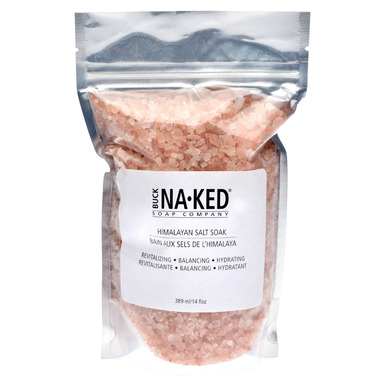 Buck Naked Soap Company Himalayan Salt Soak
Mined from ancient sea beds in the Himalayas, this mineral-rich salt is thought to be the purest available. Including over 84 minerals and trace elements, Buck Naked's Himalayan Salt Soak helps maintain skin's moisture and can be used to stimulate circulation and relax and soothe sore muscles. The unique ionic energy from Himalayan Salt also helps draw toxins from the body.
Features
:
Ideal for all skin types
Packed with 84 essential minerals needed by our bodies
Reduces the appearance of fine line
Helps soothe and moisturize dry and itchy skin
Ionic charge helps draw toxins from the body
Creates a luxurious and nourishing bathing experience
Biodegradable
Vegan
Natural colours
Natural fragrances
Directions
: Add 1/4 cup of bath salt to bath water. Soak. Allow yoursekf to drip dry in order to receive full benefit from the salts. Discontinue use if irritation occurs.
Ingredients
: Sodium Chloride (Himalayan Salt)
Vegan, Gluten Free, Fair Trade





liz:
a few months ago
i love using this 2-3 times a week to just relax in. It sure seems to help my muscles relax and it even makes my skin look good if i drip dry afterwards. It really helps draw out the gunk in my skin too. Just make sure it is completely dissolved before jumping in the tub because it is pretty abrasive!
Melissa:
a few months ago
I used this bath salt after a massage and it was lovely. I found I didn't need to use as much as I would with epsom salt but it worked just as well. The only down side was that it left a beautiful orange residue in my tub that took a bit of scrubbing to get off; it probable would have been better if I noticed this while the tub was draining and rinsed it right away instead of letting it dry on.
Page
1