Buck Naked Soap Company Naughty + Nice Holiday Bath Bomb Set
2x Naughty + 2x Nice Bath Bombs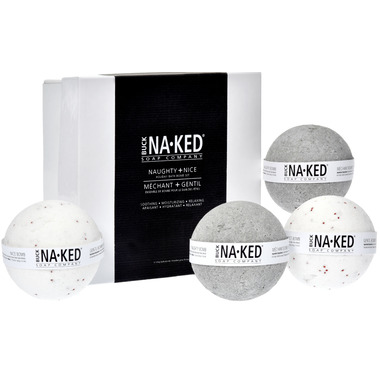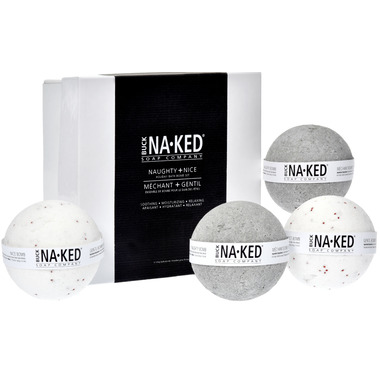 Buck Naked Soap Company Naughty + Nice Holiday Bath Bomb Set
2x Naughty + 2x Nice Bath Bombs
Buck Naked's hand-packed bath bombs are the ultimate fizzy indulgence! This 2017 Holiday bath bomb set includes two Naughty and two Nice bath bombs. Each has been designed to celebrate the holidays in a special way. If you're on Santa's naughty list, the coal inspired Naughty Bomb, scented with jasmine, sets a romantic mood. Up for something more refreshing? The Nice Bomb is perfect to reinvigorate the senses with fresh peppermint.
Features
:
Ideal for normal to oily skin
Biodegradable
Vegan
Oversized artisan bombs are handcrafted in small batches
Natural colours
Natural fragrance
Sustainable ingredients
Directions
: Drop the bomb in the bath water and allow to dissolve. Enjoy!
Ingredients
:
Naughty Bath Bomb: Sodium Bicarbonate, Citric Acid, Sodium chloride (Dead Sea Salt), Magnesium Sulphate, Vitis Vinifera (Grape) Seed Oil, Aqua, Iron Oxide, Parfum (Essential Oil)
Nice Bath Bomb: Sodium Bicarbonate, Citric Acid, Sodium chloride (Dead Sea Salt), Magnesium Sulphate, Vitis Vinifera (Grape) Seed Oil, Aqua, Vaccinium Macrocarpon (Cranberry) Seeds, Parfum (Essential Oil)
Natural, Vegan, Gluten Free, Fair Trade