Buck Naked Soap Company Shea Butter & French Green Clay Soap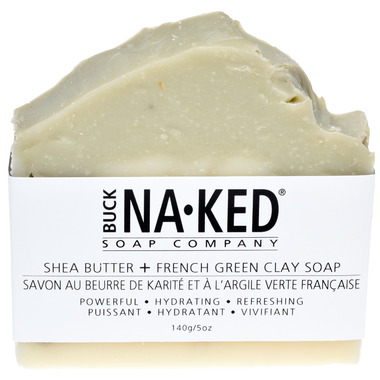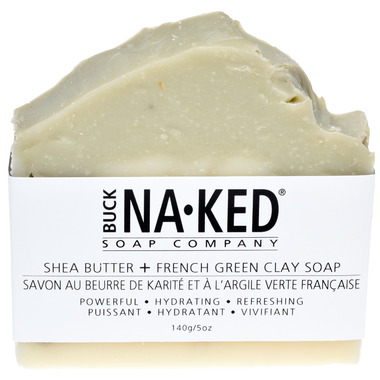 Buck Naked Soap Company Shea Butter & French Green Clay Soap
The Buck Naked Soap Company Shea Butter & French Green Clay Soap is rich and nourishing, Shea butter helps moisturize dry skin.
Try the
Buck Naked Soap Dish
! Beautifully handcrafted, its large size perfectly fits your Buck Naked Soap Bar. Its also made out of raw pine, which helps your soap dry before its next use, allowing it to last longer.
Features:
Ideal for all skin types
Biodegradable
Mineral rich
Vegan
Oversized artisan bars are handcrafted in small batches
Natural colours
Natural fragrances
Directions:
Massage wet bar onto skin and rinse. When cleansing delicate facial skin, follow with your regular toning and moisturizing routine. Discontinue use if irritation occurs.
Ingredients:
Elaeis Guineensis, Aqua, Olea Europaea (Olive) Fruit Oil, Cocos Nucifera (Coconut) Oil, Sodium Hydroxide, Butyrospermum Parkii (Shea Butter), Parfum (Essential Oil), Montmorillonite (French Green Clay)
Vegan, Gluten Free, Fair Trade