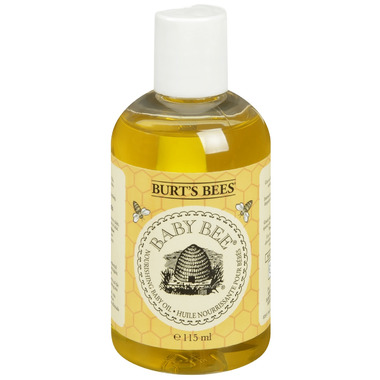 115 mL
Burt's Bees Baby Bee Nourishing Baby Oil
is rated out of
5
by
22
.
---
Description
It's time for a treat. Burt's Bees Baby Bee Nourishing Baby Oil softens and smoothes baby's skin with a medley of vitamin-rich oils. Apricot is infused with grape seed, wheat germ and sunflower oils to create a rich, natural treat for precious skin.
Ingredients:
prunus armeniaca (apricot) kernel oil, vitis vinifera (grape) seed oil, triticum vulgare (wheat) germ oil, tocopheryl acetate, parfum (fragrance), helianthus annuus (sunflower) seed oil, canola oil (huile de colza), rosmarinus officinalis (rosemary) leaf extract, tocopherol, glycine soja (soybean) oil, olus (vegetable oil, huile vegetale), beta-carotene, benzyl benzoate, geranoil, limonene, linalool
Highlights

Rated

5

out of

5
by
Anonymous
from
Gentle and Relaxing...even for Adults!
I'm an adult who just happened to be tempted into buying this product, and let me tell you...this is not just for babies! This bubble bath is a lovely, gently scented, and calming mixture...it smells like honey, a hint of vanilla, and just a hint of nuttiness, making it the perfect choice for anyone who wants a soothing and calming bath. The natural'ness' of this product is also really evident in its scent, and even the bubbles seem more natural and long-lasting. I would recommend this to anyone, with or without baby, as a gentle and soothing bubbly bath gel to relax and calm the body and nerves
Date published: 2012-01-01
Rated

2

out of

5
by
PipersMommy
from
Too thick to apply on a squirmy baby
I love Burt's Baby Bee line.... except for this product. Although it works great once it's applied, and it smells wonderful, it is so thick I had to use 2 hands to squeeze it out of the tube, which is very hard to do when you have to keep one hand on a rolling, squirmy 9 month old.. Once I got the cream out, I found it too thick to spread properly on my daughter... it ended up everywhere. I feel like you have to warm it up in your hands to soften it up and make it easily spreadable first... and for me and my daughter, that just doesn't work for us.
Date published: 2015-02-14
Rated

5

out of

5
by
PipersMommy
from
LOVE IT!!!!
This stuff is amazing!!!! I will never use anything else on my daughters bottom from now on. We always apply it before her bedtime diaper, and after every bath, and the skin on her bottom is super, super soft, and smooth, and no diaper rash!! I love the sweet honey smell, and the texture although thickish, is not sticky, or greasy like other products we have used in the past. I cannot recommend this enough!! LOVE IT!!! I even use it myself.
Date published: 2015-02-14
Rated

5

out of

5
by
northernglenn
from
PLEASE make the Old Baby Oil version also availabe
Love the results on my winter -40*c chapped dried fingers! Esp. at the corners of the fingers, where the nail to skin meet & often splits open & hurts like a paper cut!! Ouch!! They become delicate when I need to grab hold of something. Helps to moisturize & cure. Love the 'older version' of this product better. Too bad companies have to always change things that we faithful customers love!! Why not add it to the collection & let us choose? Make everyone happy! Thank you so much. Hope our wish will come true?
Date published: 2020-01-08
Rated

5

out of

5
by
Emiliana
from
10 Star Ointment
(This review was collected as part of a promotion.) If I could, I will give this product 10 stars. I did a lot of research before buying the first diaper cream for my newborn. After reading lots of reviews I decided to go with this Ointment and it has been great. My baby's skin is soft, it doesn't have that white stain that most of diaper creams so its always clear and I can see if there is something wrong. This ointment is so good that I also use it on my baby's neck and arm pits when they get a little bit irritated. The skin near her eyes also gets dry a little bit. I put this cream and it looks different just after a couple of minutes. I also use it for my hands when I feel them too dry. Is the best multipurpose cream I had try so far.
Date published: 2016-05-09
Rated

5

out of

5
by
ATurner
from
Best Diaper Ointment
(This review was collected as part of a promotion.) At first I thought that it was too thick, but then I soon realized that this thickness actually protects my baby's bottom for 12 hours (overnight). Her bottom will still be pasty and white in the morning! In fact, whatever miracle ingredients are used in this ointment actually will clear up a diaper rash overnight while baby sleeps in a wet diaper. I am so amazed with this product and I now gift it to all my friends having babies and recommend it to all of my mommy friends.
Date published: 2016-05-03
Rated

5

out of

5
by
ankamobile5
from
Wonderful oil!
This is the best oil I have ever used. Very good for dry skin, absorbs easily.
Date published: 2018-11-20
Rated

5

out of

5
by
CorLesGaw
from
Amazing!!
(This review was collected as part of a promotion.) I am seriously in love with this product! It works wonders on my little ones bum, it's not greasy or thick, it's safe for the cloth diapers and it smells like honey.... It's a win all around! :) I've even started using it on my belly for stretch marks as baby number 2 is on his way. Definitely recommend for everyone!
Date published: 2016-05-04