Camino
Camino Raspberries Dark Chocolate Bar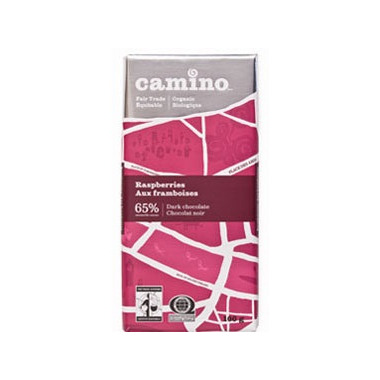 Camino
Camino Raspberries Dark Chocolate Bar
Description
The perfect combination of Camino's mouth-watering dark chocolate and naturally sweet, tangy raspberry morsels. Rich and intense, this new chocolate bar is sure to satisfy all lovers of this little berry.

Features:
Certified Organic
Fairtrade Certified
Certified Kosher
Organic ingredients:
Cacao mass*, golden cane sugar*, cacao butter*, whole cane sugar*, raspberries, ground vanilla beans*.
Minimum 65% Cacao.
May contain tree nuts, peanuts and milk.

Cacao, sugar, vanilla: traded in compliance with Fairtrade Standards (total 97%).
Highlights