Campy
Campy Smells Like: The Holidays
Cinnamon, Nutmeg & Rum 8 oz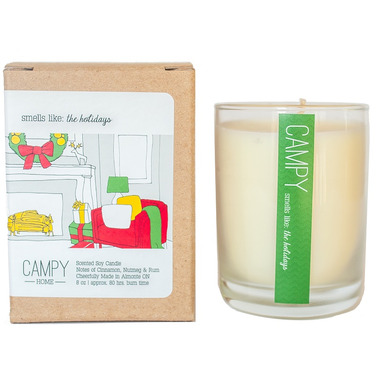 Campy
Campy Smells Like: The Holidays
Cinnamon, Nutmeg & Rum
8 oz
---
Description
When you think of the holidays, one of the first things that comes to mind is snuggling up with a toasty beverage in front of the fire. This Campy candle smells just like that! Warm, and cozy with notes of cinnamon, nutmeg and rum.

Campy 8 oz soy candles are hand-poured in Almonte, Ontario, Canada. Each candle is a blend of essential and fragrance oil for fantastic, subtle scent that won't overwhelm the room.

Burn Time: 80 hours.

Ingredients: Eco Soy Wax, fragrance oil blend

Caution: Never leave your candle unattended. Burn for no longer than 4 hours at a time.

Highlights