Carlson
Carlson Cod Liver Oil Super 1000 mg Large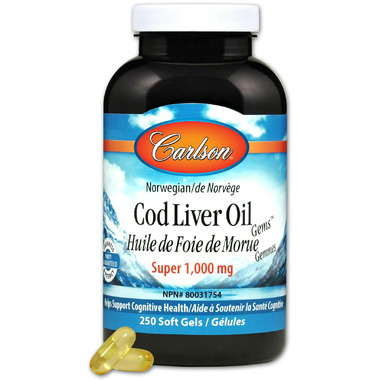 Carlson
Carlson Cod Liver Oil Super 1000 mg Large
Description
Cod liver oil from the deep, unpolluted waters near Norway, Carlson bring you the is naturally rich in vitamin A, Vitamin D3, EPA and DHA. Only cod fish caught during the winter and early spring are used, as the liver oil content is highest at this time of year.
Supplement Facts (per 1 softgel):
Calories - 9
Calories from fat - 9
Total Fat - 1 g
Cholesterol - 4 mg
Vitamin A - 2000 IU
Vitamin D - 250 IU
Vitamin E Natural - 10 IU
Omega-3 Fatty Acids - 240 mg
EPA - 90 mg
DHA - 120 mg
ALA - 20 mg
DPA - 10 mg
Highlights

Features
The cod liver oil is separated from the liver tissues without the use of chemicals
Super 1000 mg provides 300% more cod liver oil than other soft gels.
Carlson Norwegian Cod Liver Oil is regularly tested (using AOAC international protocols) for freshness, potency and purity by an independent, FDA-registered laboratory and has been determined to be fresh, fully potent and free of detectable levels of mercury, cadmium, lead, PCB's and 28 other contaminants
Shipping & Returns
Unfortunately, due to the nature of this item, we cannot accept any returns.
We are only able to ship this item to Canadian customers.
Click here for more information