Cetaphil
Cetaphil Gentle Makeup Removing Wipes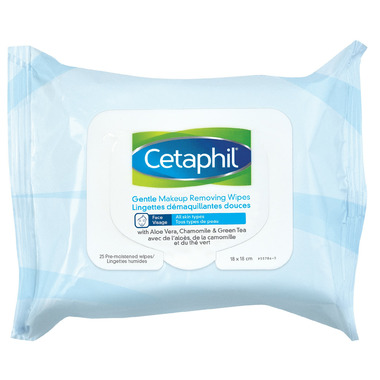 Cetaphil
Cetaphil Gentle Makeup Removing Wipes
25 Count
Cetaphil Gentle Makeup Removing Wipes
is rated out of
5
by
20
.
---
Description
Cetaphil Gentle Makeup Removing Wipes - The ultrasoft pre-moistened wipes lift off stubborn makeup, even waterproof mascara, leaving skin feeling refreshed. Formulated with aloe vera & soothing botanicals leaving skin feeling soft and refreshed.

- Removes Waterproof Makeup
- Made with Aloe Vera, Chamomile and Green Tea
- Fragrance and Paraben free
- leaves skin feeling soft and refreshed
- Suitable for sensitive skin
- Non Comedogenic and Hypoallergenic
- Dermatologist & Ophthamologist Tested

Directions:
Gently wipe eyes and face of makeup. Dispose of wipe in trash receptacle.

Ingredients:
INGREDIENTS/INGRÉDIENTS : AQUA, ISOHEXADECANE, DICAPRYLYL ETHER, OCTYLDODECYL, STEAROYL STEARATE, HEXYLENE GLYCOL, ALOE BARBADENSIS LEAF JUICE, CUCUMIS SATIVUS, (CUCUMBER) FRUIT EXTRACT, CHAMOMILLA RECUTITA (MATRICARIA) FLOWER EXTRACT, CAMELLIA, SINENSIS LEAF EXTRACT , TOCOPHERYL ACETATE , CENTAUREA CYANUS FLOWER EXTRACT, GLYCERIN, ETHYLHEXYL HYDROXYSTEARATE, LAURYL GLUCOSIDE, POLYGLYCERYL-2 DIPOLYHYDROXYSTEARATE, AMINOMETHYL PROPANOL, PHENOXYETHANOL, SORBITAN LAURATE, ACRYLATES/C10-20 ALKYL ACRYLATE CROSSPOLYMER, IODOPROPYNYL BUTYLCARBAMATE, DISODIUM EDTA, ETHYLENE BRASSYLATE, CITRIC ACID, PROPYLENE GLYCOL

Waterproof Makeup Remover, Aloe Vera, Ginseng, Green Tea, Chamomile, Dermatologist Tested, Ophthalmologist Tested, Sensitive Skin, Non-comedogenic, Hypoallergenic, Makeup Remover, Liquid makeup remover, Fragrance Free, Paraben free

Rated

4

out of

5
by
Amna
from
I received this product for free for testing. I love that these wipes are made for makeup removal and cleansing. I tried to remove sunscreen, eye makeup and face powders with them, and they worked well. The wipes don't sting my eyes, but they do sting my dry skin a little bit (much less than other wipes). It's very tolerable. They leave my skin clean and not too tight, but I do need to moisturize right after. Some rubbing is needed, especially to remove mascara. One wipe is about twice as big as my hand, and not too wet. One is enough to remove makeup I mentioned, if I was wearing foundation I'd need two. The wipes are unscented, so they have that mildly unpleasant scent of such products.
Date published: 2018-05-24
Rated

5

out of

5
by
Janelle
from
I received this product free for review from Topbox Circle. I have used many makeup wipes in my day, especially as a makeup blogger - I use them for wiping off swatches from my hands, to my quickly cleaning off makeup brushes and to of course, remove makeup from my face. Usually, I need 2-3 wipes to do the job, however, using only 1 of these wipes removed ALL TRACES OF MAKEUP from my face! They feel really moist and removed everything, without irritating my eyes! The end result? My skin was makeup free and felt really moisturized, not tight at all. I will 10000% be re-purchasing these wipes!
Date published: 2018-05-29
Rated

3

out of

5
by
Samantha
from
I received Cetaphil Gentle Makeup Removing Wipes complimentary for testing/review purposes from Cetaphil & TopCircle, all opinions are my own. These wipes contain an Aloe Vera, Green Tea and Chamomile formula making them great for sensitive skin. They are hypoallergenic and paraben free. However, I really do feel that they are not moist enough. They aren't as "ultra-soft" as they claim to be because it feels like I am scrubbing harder than I should, which resulted in irritated skin and not really feeling like all my make-up was coming off, particularly mascara. After a few times using them as direct, I added a touch of water to the plastic bag and they are so so much nicer to use, and DO remove all of my makeup.
Date published: 2018-06-11
Rated

2

out of

5
by
Beauty Reviews
from
I like to use makeup removing wipes as a pre-cleansing step and I'm very picky about them. They need to be gentle but effective, and they have to remove waterproof/long wearing products. Sadly these wipes didn't suit my needs. I will say that these are gentle - they didn't irritate my eyes or sensitive skin. Unfortunately they weren't very moist and one wasn't enough to do my whole face. I tried to use a second one and it just didn't remove all my makeup. Sadly these just didn't work for me. *I received a complimentary sample in exchange for my honest review
Date published: 2018-06-16
Rated

5

out of

5
by
Jasmeen
from
These Cetaphil Gentle Makeup Wipes do the trick every time! (And I wear a lot of makeup!) They are hypoallergenic and gentle on my sensitive skin, yet they leave my face feeling hydrated and not dry. I used them in the evening before bed to remove my makeup; I love that they did not make my skin greasy or drier! I highly recommend these wipes for anyone with sensitive yet dry skin like me! One wipe does the job and they are fairly inexpensive yet effective. Just loving them! I received this product free from Topbox Circle in exchange for my honest review.
Date published: 2018-06-13
Rated

5

out of

5
by
Dakota
from
Wow! these wipes are absolutely amazing! They have a resealable flap that keeps the wipes moist and evenly dispersed moisture. I actually recommend people flip theirs upside down to keep the moisture at the first wipe. There is no scent which is amazing and safe for sensitive skin - which is what I have, as well as eczema. They are very frothy, and not uncomfortable wet. They feel soft and gentle on the skin, no harsh exfoliants/textures. They remove a considerable amount of lip, eye, face makeup with one wipe. I find you don't have to rub hard to get the makeup off. Plus aloe vera and the chamomeille is amazing for people with sensitive red skin. It's very affordable for how many makeup wipes come in the package! I received this product complimentary from Topbox.
Date published: 2018-05-29
Rated

5

out of

5
by
Dal
from
I'm really impressed with the quality of this wipes. They are thick and large and feel full of makeup remover without feeling watery. I use makeup wipes all the time and this one of the better ones out there. I like that this formula has aloe vera, chamomile and green tea. This is very gentle on the skin. I've been using them after I cleanse my face at the end of the day to remove any extra makeup residue and they are perfect for that! I received this item free to try in exchange for an honest review.
Date published: 2018-05-30
Rated

4

out of

5
by
MARIA
from
I was first impressed with how durable it is since the first time I used it was to remove a clay mask. It didn't deteriorate after use or even wash. I was able to soak it under the faucet several times. It's pretty big so if you don't wear a lot of makeup, I'd say cut it in half and get more out of it. Both sides seem to be the same texture unlike other wipes. It was extremely soft. They must've smeared some moisturizing paste on both sides as it actually didn't feel rough to the touch. I don't even have sensitive skin and most wipes leave me feeling burnt. It did however, leave my dry areas stinging for a bit but I tend to rub there to exfoliate a bit. So it isn't super gentle but it is the best I've tried so far. So I'm well impressed and pleased with receiving this free from topbox circle!
Date published: 2018-06-05