Clean & Clear
Clean & Clear Morning Burst Facial Cleanser
with Bursting Beads 236 mL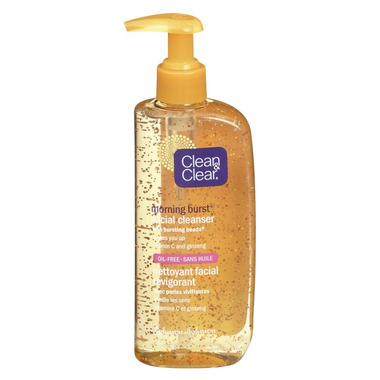 with Bursting Beads
236 mL
Clean and Clear Morning Burst Facial Cleanser
is rated out of
5
by
754
.
---
Description
Get clean, refreshed skin with CLEAN & CLEAR® MORNING BURST Facial Cleanser. Suitable for normal, oily, and combination skin types, this unique gel cleanser cleans and refreshes your complexion. The oil-free formula is infused with vitamin C and ginseng plus BURSTING BEADS that help nourish skin with energy and vitamins, so it looks radiant and refreshed. The cleanser's long-lasting, fresh citrus scent will energize your senses, helping you get ready for the day. This cleanser comes in a 236-millilitre pump bottle.

Features:

236 mL pump bottle of facial cleanser
Cleanses and refreshes skin
For normal, oily, and combination skin
Contains vitamin C, ginseng, and BURSTING BEADS
Oil-free formula with a long-lasting fresh citrus scent
Dosage: Wet hands and face. As you work cleanser into a gentle lather, the BURSTING BEADS gently break to release vitamins. Gently massage on skin. Rinse thoroughly and pat dry.

Ingredients: Water (eau), sodium laureth sulfate, glycerin, acrylates copolymer, cocamidopropyl betaine, mannitol, phenoxyethanol, menthyl lactate, cellulose, disodium EDTA, methylparaben, menthol, propylparaben, tocopheryl acetate, ethylparaben, sodium ascorbyl phosphate, retinyl palmitate, hydroxypropyl methylcellulose, acrylates/ammonium methacrylate copolymer, triethyl citrate, cucumis sativus (cucumber) fruit extract, citrus grandis (grapefruit) fruit extract, panax ginseng root extract, zingiber officinale (ginger) root extract, iron oxides, titanium dioxide, mica, talc, sodium hydroxide, parfum.

Caution: For external use only. Keep out of the reach of children.
Rated

4

out of

5
by
rebeccamb13a
from
(This review was collected as part of a promotion.) I really enjoy this cleanser even though I have combo/oily skin. It truly does leave my skin feeling moisturized, although I still put moisturizer on afterwards. I've seen some people say that it doesn't actually cleanse their face, but I personally don't feel that way. It cleanses my face. I'm giving it 4 stars because it has a strong scent, which can be irritating to sensitive skin. Also, because there aren't very many hydrating bursting beads, as the bottle suggests. Ending on a good note, there's no plastic microbeads or anything!! I've been told that clean and clear no longer uses those :)
Date published: 2018-07-14
Rated

4

out of

5
by
vanessal120e
from
(This review was collected as part of a promotion.) Thank you Influenster for the cleanser - I was so happy to receive this product. This cleanser did not break me out (I have sensitive skin so that's always a concern with new products). It made my skin feel clean (as advertised, clean and clear haha) and did not dry me out - however it did feel (and look) a bit like hand soap. It smells really good and I like the little beads inside as well. It bubbles a bit too much for my liking, but I will continue using it if I need a quick cleanse in the morning! Thank you Clean and Clear + Influenster again. Clean & Clear® Morning Burst® Hydrating Facial Cleanser
Date published: 2018-07-04
Rated

5

out of

5
by
anushan
from
(This review was collected as part of a promotion.) I absolutely love this cleanser. The scent is very lovely and accurate for a green mango. The cleanser does foam up but I would not call it a foaming cleanser per say. The hydration beads burst easily if you rub the cleanser and they are fairly inconsistent. You may get some when you pump out the cleanser or you may not. Overall though it is a hydrating cleanser. My skin felt nice and refreshed after cleansing and did not feel tight. My skin felt nice and fresh and more hydrated than had I used my normal cleanser. I would definitely want to repurchase this in the future.
Date published: 2018-06-30
Rated

3

out of

5
by
kaylamd5ca
from
(This review was collected as part of a promotion.) The first thing I noticed when using this product is it smells amazing. When applied, the product foams up making it easy to cleanse. The microbeads arent plastic which is important and meaningful, and they make the wash feel nice. I have combination skin and this product slightly dried out my skin. After a few uses I noticed my skin was drying out, and had to use a deeper moisturizer when using this product. I would reccomend this product to someone who has oily skin, but I will not purchase again simply because of my skin type. Note- I recieved this product complimentary from Influenster for testing purposes.
Date published: 2018-06-27
Rated

5

out of

5
by
jessicay3
from
(This review was collected as part of a promotion.) This product is amazing! To be honest it is my first time trying the brand Clean & Clear and I have heard a lot of good things about it. Clean & Clear® Morning Burst® Hydrating Facial Cleanser definitely made me satisfy with my skin since I have the kind of skin that gets dry very easily. This morning burst makes my face not only 24h hydrated but it also wakes me up every time I use it in the morning. Now my skin is super glowy and it also smells really good. I am very happy with this product, I definitely recommend! Everyone should have this in their skincare routine!
Date published: 2018-06-15
Rated

1

out of

5
by
MO
from
Pump doesn't work
As a teenager I used clean & clear and eventually stopped. Recently I couldn't remember why I stopped so I purchased this. The first time I went to use it, I remembered why I stopped. The freaking pump doesn't work. It's impossible to get open, so you end up using the product by wiping your hand along the straw piece. Super frustrating. The product inside be bottle is fantastic but when I can buy a product for 1/2 the price with a squeeze bottle that is more hygentic than wiping my fingers along a straw why spend the extra. Your competition also has arrows on the lids of the pumps to best direct their customers. I even googled how to use a clean and clear pump (I thought I was just a moron) and pages of frustrated customers are in the same boat as me. Please fix the pump!
Date published: 2018-04-13
Rated

4

out of

5
by
ericar5
from
(This review was collected as part of a promotion.) This is a great lightweight morning cleanser to clean away impurities caused over night. I have been using this for a couple months now and it has helped keep my skin clear and moisturized. The scent is nice and subtle, not too over powering and definitely help awaken your senses. I don't really feel that the bursting beads do any exfoliation like they claim to do. I love the convenience of the pump as you can control the amount of product you'd like. The price point is very affordable. I would recommend this to anyone looking for a simple and affordable cleanser.
Date published: 2018-07-30
Rated

5

out of

5
by
emilys5394
from
(This review was collected as part of a promotion.) I absolutely love clean and clear and all of the products I have tried from them!!! Influester sent me a complimentary bottle of this and I was over the moon excited because it is one of my favorite products! I do have very oily skin but this doesn't do anything that makes anything worse and gives my face and skin a nice refreshing glow that I absolutely adore! This stuff also isn't very expensive and works wonders! I use it all the time morning and night and it is not damaging to the skin but instead rejuvenates and is safe for everyday use! I strongly recommend!
Date published: 2018-06-28