Cocoon Apothecary Eyewaken Eye Cream
Cornflower Hydrosol & Cocoa Butter
20 ml (.68 fl. oz)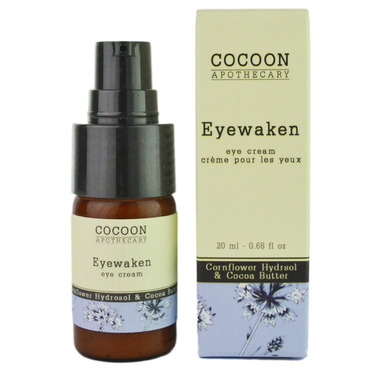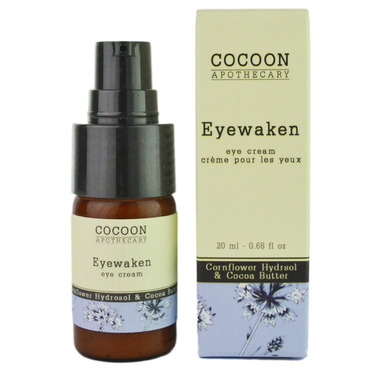 Cocoon Apothecary Eyewaken Eye Cream
Cornflower Hydrosol & Cocoa Butter
20 ml (.68 fl. oz)
The Cocoon Apothecary Eyewaken Eye Cream is a revitalizing eye cream that moisturizes and soothes tired eyes and is blended with the cooling, astringent hydrosols (waters) of organic rose and corn flower. A lightweight formula ideal for the delicate eye area that that can be dabbed on to avoid tugging at skin. Antioxidant-rich oils smooth fine lines, prevent free radical damage, and keep area firm and protected.
Features
:
Light, smooth formula that doesn't tug at the skin when applying.
Firms and protects delicate skin.
Antioxidant-rich to combat fine lines and wrinkles.
Vegan, biodegradable, non-GMO, non-toxic.
Made with certified organic ingredients.
Directions
: Apply a dab of cream under eyes and gently pat around eye area.
Ingredients
: Certified organic cornflower hydrosol, certified organic rose hydrosol, certified organic argan oil, certified organic grapeseed oil, certified organic sweet almond oil, cetearyl alcohol (from coconut), stearic acid (plant-based), certified organic cocoa butter, glycerin (from non-GMO canola), sodium anisate (from basil), sodium levulinate (from non-GMO corn), sodium cetearyl sulfate (plant-based), vitamin E, glyceryl caprylate (from coconut).
Natural, Organic, Vegan, Gluten Fee, non-GMO, Made in Canada