Cocoon Apothecary Orange Blossom Skin Care Set
Oily Skin Types
3 x 100ml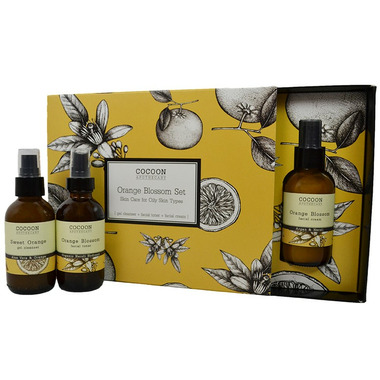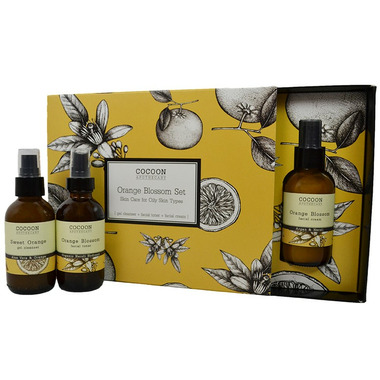 Cocoon Apothecary Orange Blossom Skin Care Set
Oily Skin Types
3 x 100ml
Consciously cleanse, tone, and moisturize with Cocoon Apothecary's luxurious natural Orange Blossom skin care line for oily skin.
Sweet Orange Gel Cleanser
: A gentle cleanser for oily skin that doesn't contain harsh, irritating ingredients but a mild, coconut-based foam with soothing aloe vera and witch hazel waters. Effectively removes excess oil and make up leaving skin clean and balanced. pH Balance - 5
Sweet Orange Facial Toner:
A 100% organic alcohol-free toner that delivers powerful antioxidants and astringents to tighten up pores and prepare skin for moisturizing. Certified organic hydrosol (water) extracted from orange blossoms creates a purifying toner with a beautiful citrus scent. Delivers botanical hydration to skin before it gets locked in by a moisturizer. Can also be used with a cotton ball to lightly clean face or remove excess debris after cleansing. Great for oily skin types. pH Balance - 4, EWG Rating - 1
Orange Blossom Facial Cream:
A light-weight, astringent facial cream for oily-skin that nourishes and protects skin without feeling greasy or heavy, controls oiliness and minimizes pores. The perfect amount of argan and sunflower oils are added to deliver nourishing vitamin E and essential fatty acids deep into the layers of skin to keep it firm and reduce the appearance of fine lines. pH Balance - 5, EWG Rating - 1

Set Contains:
100 mL (3.3 fl oz) Sweet Orange Gel Cleanser
100 mL (3.3 fl oz) Orange Blossom Facial Toner
100 mL (3.3 fl oz) Orange Blossom Facial Cream
Features
:
100% Plant-based
Vegan and Cruelty free
Biodegradable
Safe & Non-toxic
Gluten-free
No: Parabens, GMOs, Formaldehyde-releasers, Petroleum, Phthalates, Artificial aromas or fragrances, Dyes, EDTA, BHA or BHT
Sweet Orange Gel Cleanser Ingredients:
Water, aloe vera gel juice*, coco glucoside, witch hazel distillate, glycerin, xanthan gum, sweet orange essential oil*, vitamin E, sodium levulinate (from non-GMO corn), sodium anisate (from basil), citric acid.
Orange Blossom Facial Toner Ingredients
: Certified organic neroli hydrosol.
Orange Blossom Facial Cream Ingredients
: Purified water, sunflower seed oil*, argan oil*, cetearyl alcohol (wax from coconut), stearic acid, glycerin, sodium anisate (derived from basil), sodium levulinate (derived from corn), neroli (orange blossom) essential oil, sodium cetearyl sulfate (from coconut), tocopherol, glyceryl caprylate. *certified organic
Natural, Vegan, Gluten Free, Non-GMO, Made in Canada