Cocoon Apothecary Rosehip Oil Moisturizing Serum
Beta Carotene & Lycopene
60 ml (2 fl oz)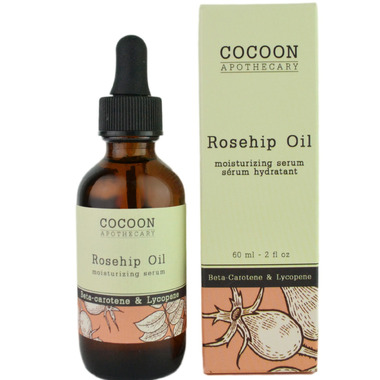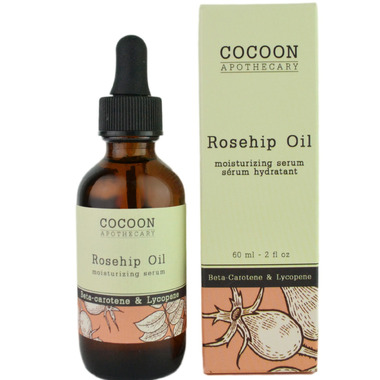 Cocoon Apothecary Rosehip Oil Moisturizing Serum
Beta Carotene & Lycopene
60 ml (2 fl oz)
The Cocoon Apothecary Moisturizing Serum is made with Organic Rosehip Oil cold pressed from the seeds of roses. Containing oil rich in essential fatty acids, including up to 30% omega 3 (alpha-linolenic acid, ALA), it is anti-inflammatory and helps to carry nutrients deep into the skin. The orange colour indicates its high carotenoid content, which helps protect skin from free radical damage. A unique component of rosehip oil is tretinoin, an anti-aging, regenerative retinoid that is known to smooth fine lines and keep skin firm.
Features
:
Regenerative for scarring, dark spots, and fine lines.
High levels of antioxidants and vitamins to fight free radical damage and inflammation.
Keeps skin smooth and firm.
Vegan, biodegradable, non-GMO, non-toxic.
Made with certified organic ingredients.
Directions
: Apply a few drops to clean face and neck in the morning as a facial oil, or in the evening as a night treatment. Add 1-2 drops to dispensed facial cream to increase moisturizing ability.
Ingredients
: Certified Organic Rosehip Oil
Natural, Organic, Vegan, Gluten Fee, non-GMO, Made in Canada