Colora Henna
Colora Henna Creme Hair Color & Conditioner with Natural Henna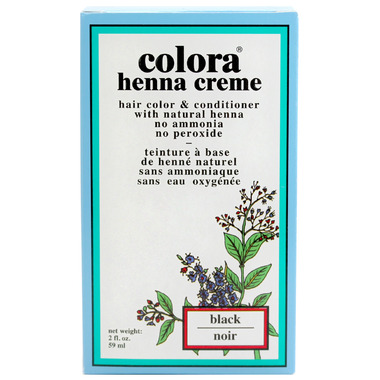 Colora Henna
Colora Henna Creme Hair Color & Conditioner with Natural Henna
2 oz
Colora Henna Creme Hair Color and Conditioner with Natural Henna
is rated out of
5
by
4
.
---
Description
Out of the ancient past comes the secret of coloring hair with plants and water, without chemicals. Colora will not penetrate the hair or change its structure, but each and every hair shaft will actually be wrapped and its body thus visibly increased with the very first application.
Colora Henna works wonders for hair, especially if it feels dull and lifeless. Henna adds body and bounce, and offers a choice of rich but subtle color changes. Colora's "natural" shade will add extra body and shine with no change in color. All of the other shades will add a thin layer of transparent color so that the original hair color will shine through and enhance the final result for the ultimate natural look.
Colora Henna Cream is 100% natural vegetable hair colour.
Directions:
Shampoo hair and towel dry
Apply Colora Henna Creme liberally and evenly
Cover with plastic cap and let sit for 1 hour. For richer color leave on hair longer
Remove cap and rinse thoroughly

Ingredients:
Water

Henna Extract
Hydroxyethylcellulose
Cocoamphopropionate
Dowicil 200
May also contain:
Solvent black 5, disperse blue 1, basic violet 14, basic yellow 15.
Highlights

Rated

1

out of

5
by
Cher
from
It's a waste if money!
I've been coloring my hair with henna powder for years. I used Colora Cream about 10 years ago and I liked it. Decided I was tired of the powder so I ordered four boxes of the brown Colora creme. I used 2 bottles and drenched my hair. I covered my hair with plastic and I let the henna sit for a little over three hours. Nothing! No color, didn't cover any grays. It's as if I just used water in my hair. I can't tell you how disappointed I am. Waste of time and money. Just threw out the other 2 boxes.
Date published: 2022-02-13
Rated

5

out of

5
by
Grannydi
from
Lovely colour.
I used the auburn shade of cream and I'm very pleased with the results. I have short, mostly grey hair now with just a bit of my original reddish colour. The henna gave my hair a much gentler, prettier shade of auburn than any home permanent dye ever did. I love that there are no harsh chemicals involved.
Date published: 2021-01-19
Rated

5

out of

5
by
LMar
from
Repeat customer
I am very impressed with this product. It covers my grey hairs & leaves my hair soft & natural looking, not processed.
Date published: 2020-12-20
Rated

5

out of

5
by
Highstandards
from
Person who invented this product is a genius!
I'm in my 60's and I've been using this product for about 20 years-never went to a salon for chemical colouring, and for the times I did, I brought this product with me! For anyone who is tired of the chemical damage of colouring and is looking for an easy but exceptional quality colouring alternative-I would recommend this product without hesitation. The amazing part-they are completely fragrance and chemical free. (some colours list small bits of chemcials to help neutralize and perserve colour, but significanlty less than a commercial product) You will probably have to colour more often especially with thick or long hair, but for the time and money saved in a salon, it is worth it! I'm just astounded that with all the health and wellness we have around us these days, this product is still unheard of in most salons and stores or if you find it, there is little choice or inventory beause no one knows about it including the saleshelp. So I'm so happy to hear well.ca now carries it, and it's the best price I've found so far. Some tips: Spread a plastic sheet on the wall in your bathroom-the colour can stain a white wall, or any splatter will need to be scrubbed off with a powder bleach cleaning agent. But it will easily come off enamel surfaces like sinks, tiles or marble floors. When applying the colour, colours will mix well, but experiment with the colours first. ie. Chestnut has a green hue to it. Second, I find using a wide natural 2 inch paint brush for applying it works well, as well as a spatula for mixing it. (you find them at art stores or in kitchen stores) Third, bottle caps take a really strong grip with a rubber glove to twist and remove. And fourth, I recommend leaving on for 1 hour to 90 minutes. The longer, the better! I hope this review will help others the way the product helped me and that Well.ca continues to offer it. Would be great if maybe one day Well.ca carried it in the 8 oz bottles. Wonderful for people like myself who have chemical and fragrence sensitivities, but still care about their appearance! (photo is me after my own colouring followed by a cut and blow dry.
Date published: 2023-03-15