Colora Henna
Colora Henna Natural Hair Color Conditioner & Thickener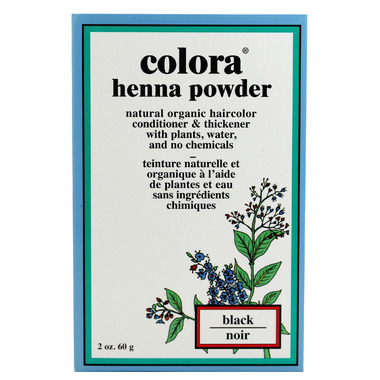 Colora Henna
Colora Henna Natural Hair Color Conditioner & Thickener
2 oz
Colora Henna Natural Hair Color Conditioner and Thickener
is rated out of
5
by
230
.
---
Description
Out of the ancient past comes the secret of coloring hair with plants and water, without chemicals. Colora will not penetrate the hair or change its structure, but each and every hair shaft will actually be wrapped and its body thus visibly increased with the very first application.
Colora Hena works wonders for hair, especially if it feels dull and lifeless. Henna adds body and bounce, and offers a choice of rich but subtle color changes. Colora's "natural" shade will add extra body and shine with no change in color. All of the other shades will add a thin layer of transparent color so that the original hair color will shine through and enhance the final result for the ultimate natural look.
Colora Henna Powder is 100% natural vegetable hair colour.
Ingredients: Henna. May also contain: Indigo, Centaurea, Rhubarb, Beetroot.
Highlights

Rated

5

out of

5
by
Nat
from
My hair is salt and pepper; more salt....I leave the henna (1/2 buttercup blonde powder / 1/2 brown powder mixed with warm water) in overnight and it covers beautifully. I've been using henna for 3 years and my skull is full of new hair growth. My hair is full and thick and grows about a foot longer than it ever did when I used chemical hair color. I'm 53 yrs old - after menopause my haired thinned considerably. That's all gone. I usually apply it myself, every 2 weeks to the roots (that's how fast my hair grows now), wrap it in a plastic bag and go to sleep; sometimes my hairdresser applies it for me. I rinse it out with conditioner.
Date published: 2018-05-07
Rated

5

out of

5
by
ShirlyB
from
Works very well
I like this product. It works well, but takes longer than chemical dyes. My hair is dark brown and half gray and overall I get a warmer shade than my natural hair. The gray hairs are chestnut coloured. There are various reviewers who say you can't colour over this with chemical dyes but that isn't true. I've done it many times and it works just fine (in fact with my daughter we use henna first and then use a semi on top... works nicely and the henna colour is a good base for brown colours). I've also stripped out this henna with a colour remover and bleech... I wouldn't recommend but it did work. (I did this to return to gray hair... which I then coloured again).
Date published: 2020-02-23
Rated

5

out of

5
by
Becky
from
I have lots of grey hair and had accidentally dyed it almost black with a chemical dye. My roots were really showing. I used the Ash brown colour for the first time, seven weeks after using a chemical dye. My grey roots darkened to a light brown and blend better with the previously dyed hair. I hear that henna colours deepen with subsequent applications too. The process was not noticeably messier than a chemical dye and took about as long to wash out. I left it in for four hours, wrapping my hair in saran wrap. I also put a thin layer of vaseline on the skin around my hairline and did not notice any discolouration on my skin. All in all, much nicer than constantly using a chemical dye.
Date published: 2012-04-03
Rated

5

out of

5
by
Stefanie
from
Learn how to use Henna
Using Henna is not like using chemical hair dyes. Spend a couple minutes watching a YouTube video. I love Henna. I have scalp psoriasis, and I am vain. I cannot use chemical dyes so I turned to Henna and I would never turn back even if my scalp psoriasis disappeared tomorrow. Can it be messy? Sure. Does it take a long time? Yes, so I buy shower caps with elastic from the dollar store, wrap a bandana around my head so that I can do other things for the 3 hours I leave it on. Does it cover the grey? YES. Does it improve the texture of your hair? Yes. Could you theoretically eat the product and not die? Yes, also. You can literally use a bowl from your kitchen to mix this stuff up, and wash it out, and continue to use it in your kitchen.
Date published: 2021-09-02
Rated

4

out of

5
by
FG
from
I agree with previous commenters, except my experience is not the same as Aisha's. The redder shades of Colora Henna are actually extremely bright when used on light hair, ie carrotty. I prefer the Gold Brown shade which makes my light brown hair a nice natural looking but definitely a vibrant and noticable auburn. The wheat blonde and buttercup blonde shades don't affect my hair colour at all. I think the key is that henna and natural dyes can add colour, but not take it away. So you are really restricted to Colora Henna colours that are darker or redder than your natural colour. For some reason hairdressers seem to get taught that henna is bad and they tell me it will destroy my hair. I don't agree.
Date published: 2010-12-20
Rated

5

out of

5
by
Kendra
from
I have been using this product for quite a while and I would definitely recommend it. It feels a bit strange to apply since it feels a lot like warm mud but once you let it set and then wash it out you will have beautiful highlights. I have medium to dark brown hair and i usually use the burgundy or mahogany henna. The result is a gorgeous warm red tone that is not super obvious and it does not look like you have dyed your hair (you never get roots). It also leaves your hair super shiny and conditioned! Excellent choice for someone who wants a change but does not want it to scream 'look I dyed my hair!'
Date published: 2009-08-06
Rated

4

out of

5
by
anonymous
from
I have been using this product for over 20 years with incredible results. My results are not typical. I am a natural redhead with fading and over 50% "white" - which is how redheads age. This product gives me 100% coverage and fantastic, natural colour. I combine 2-3 colours and get natural highlights - brighter reds with "blond" streaks where I was gray. The downside - you cannot colour or perm over natural henna. Switching to another product means growing out or a VERY short cut. Strangers continually stop me to comment on my hair colour and health.
Date published: 2009-07-04
Rated

5

out of

5
by
Annie
from
I mix black and brown
I have used this product for years, at least 15 since becoming highly allergic to reg hair dye. I have pretty well white hair and it covers well. I mix 1/3 -1/2 package of brown with about 2/3 of black in very strong cold coffee. I mix the brown first and leave it overnight, since the colour deepens when left. I mix the black with the brown the day of since it is strong right away. I do the roots only and about every third or fourth time the whole head. Leave on for three to four hours with a shower cap and warm hat. For some strange reason I am allergic to this product in the liquid form so the powders work and I love that they thicken my hair. I do this every four weeks.
Date published: 2021-11-11